Are you having trouble getting surveys in Google Opinion Rewards? Here's how to get surveys in Google Opinion Rewards.
On Android, Google Opinion Rewards is one of the easiest ways to acquire credit points in your Google Play balance. Google Opinion Rewards is a reward-based programme that allows you to earn Google Play credits by answering survey questions.
Users who participate in Google Opinion Rewards get surveys in which they are asked a series of questions. These are location-based questions that you may help Google by answering, and Google will reward you with Play Credits.
If you use Google Opinion Rewards, you may notice that after a certain period of time, you are no longer receiving surveys. It is a very common issue that everyone encounters.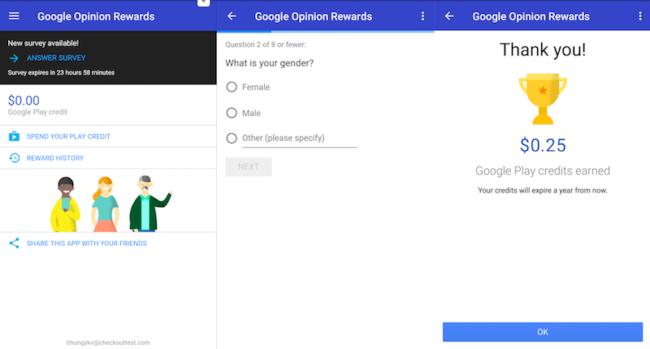 Requirements to get surveys in Google Opinion Rewards
To get started with Google Opinion Rewards and get surveys, you must meet the basic requirements for Android and iOS.
On Android, go to the Play Store and download Google Opinion Rewards. Then you must create a profile by entering personal information such as your age, gender, location, and language. You don't need to set up any payment options because the Play Balance will be credited to your Google account once you sign in.
On iOS, Google Opinion Rewards can be downloaded from the App Store. Unlike Android, you must use your App Store account to verify your identity in order to get paid. The Opinion Reward points are transferred to your PayPal account, so make sure your Apple Email ID is linked to your PayPal account. After that, you must complete your profile by providing personal information.
How to Get Survey in Google Opinion Rewards?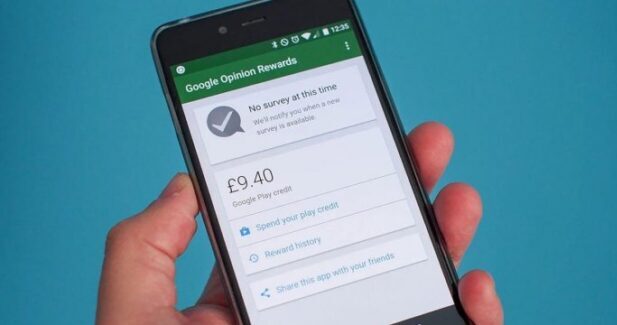 You receive a lot of surveys at first in Google Opinion Rewards, but after a while, you stop receiving surveys. This is a common problem that all users will face at some point. So, how exactly do you get Google Opinion Rewards surveys? Don't worry, there are some Google Opinion Rewards survey tricks and tips below.
1. Keep your phone location on
Asking location-based questions earns you Google Opinion Rewards points. To begin, it poses questions based on your usual locations, such as your home, workshop, college, or wherever else you go. It looks for other places you haven't been when it surveys your location.
As a result, keep your smartphone's location mode turned on at all times. This will assist the app to get more surveys for you.
Google wants to collect data from every location in order to provide the best data to users. That's why Google Idea Rewards doesn't give you surveys of places they've already collected data from. So try to travel to different places so that Google will provide you more surveys to collect data for those places.
2. Choose female as gender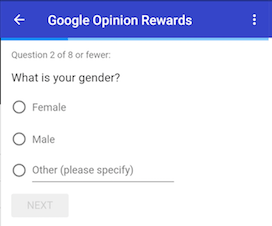 Women travel more than males, as we all know, and Google agrees. When creating your Google Opinion Rewards profile, we strongly suggest you to select Female as the gender. As a result, Google will assume you're a woman who travels frequently. As a result, Google Opinion Rewards will send you more surveys.
3. Take surveys on time
Google keeps track of how long a user takes to complete a survey on Google Opinion Rewards. So whenever you receive a survey, try to complete it as soon as possible. This will show Google that you are more willing to assist them, and you will receive more surveys as a result.
4. Answer accurately
Being truthful is the key to receiving unlimited surveys from Google Opinion Rewards. You cannot lie in the survey because Google can easily detect it. So always pay attention to the survey questions and answer them correctly. That way you'll look more honest and get more Google Opinion Rewards surveys.
5. Travel around
You cannot get surveys in Google Opinion Rewards just sitting at your home. You have to travel to different places to get surveys in Google Ideas Rewards. Try to visit as often as possible, especially groceries or apparel stores and don't forget to bring your phone.
6. Use your Play Credits frequently
Many users have found that if you save your Google Play rewards and never use them, you will no longer receive surveys on Google Opinion Rewards. Why does this happen? The answer is simple: when you collect more Opinion Rewards credits in your account, Google believes you don't need more surveys because you have a lot of play credits. So, keep using your play credits often.
How to use Google Opinion Rewards balance
Once you complete a survey in Google Opinion Rewards, you will get some credit points to your reward balance. You can use this balance to purchase apps or books in Google Play.
In iOS, you can transfer the Google Opinion Rewards balance to PayPal by linking the account.
Video to get unlimited surveys in Google Opinion Rewards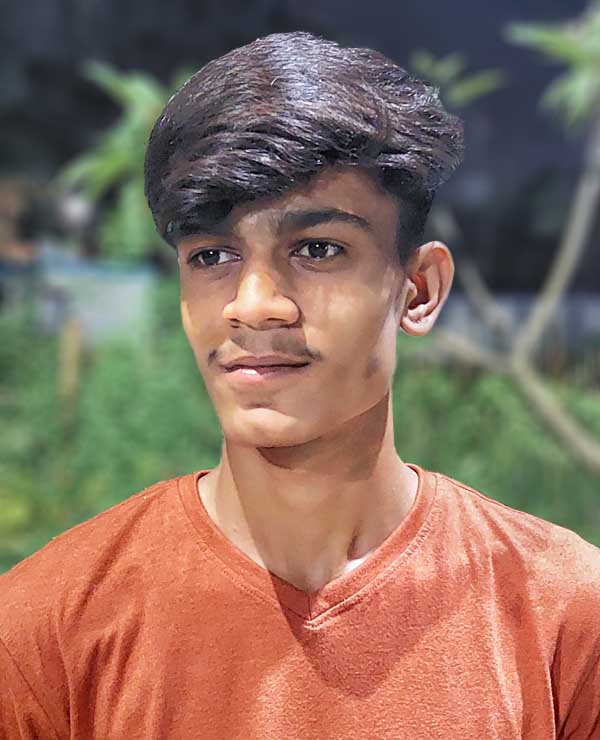 Aayush Mishra is a BCA student who enjoys gaming. He is a gaming enthusiast who covers the latest game news, reviews, and other gaming-related topics. He is particularly fond of horror and battle royale games.