Ratings: [ratings]
The nCORE Games has launched its over-hyped game Fau-G (Fearless and United Guards) after a long time, it is available for Android users, which can be downloaded from Google Play Store. But is it worthy or a waste of time? Here's the complete review of FAUG.
After the Government banned 117 apps including PUBG Mobile, actor Akshay Kumar who has a lot of inputs in FAUG, announced the game in September last year. The popular Bollywood celebrity shared its cover poster on Twitter.
FAUG is developed by nCORE Games which is a Banglore-based company. The nCORE has made a lot of Indie games but it's the first AAA type and advertised game ever developed by nCORE.
Nationalism and overhype is the major reason for getting four million pre-registration of this game. But according to reports, people has shown more love and made it to first on the list of top free game on Google Play in India.
Recently, nCORE Games announced on Twitter that the game has crossed the 5 million downloads within 24 hours. Although India has been at the 'starting point' of game development, it was the first time when an Indian game made it to the top list on the first day of its release on the Google play store.
We did not see any special on this game. FAU-G has only a campaign mode available currently that has only 3 levels. It is packed with dumb enemies, non-interactable assets, and has only 2 weapons. Its graphics is the only comprehensive point of this game. Here are the complete guide and our hands-on FAUG review.
Overview
Fearless and United Guards or FAUG is an online multiplayer action game developed by nCore Games based in Bengaluru headquarters. The game has recorded the highest number of pre-registrations and highest downloads (5 million) in less than 24 hours on the Play Store in India.
Currently, FAUG is the first game on the list of top free games on the Google Play Store in India. It is the first Indian game to achieve the milestone on its first day. You can download FAUG from Google Play Store for free, you will require 460MB of space on your phone's storage.
Pros:
High-End Graphics
Simple UI
Cons:
Poor Dialogues
Bad Storyline
No Open Interaction
A small number of Assets
Only two types of weapons
FAUG: Insides the game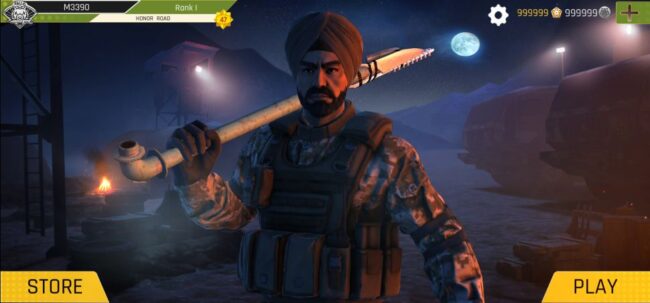 Starting with the first glance, when you first open the game, you will see an animation video where the game's story begins. You can skip these stories, it will take you to the main screen. The main homepage contains only two buttons, either you can choose to play or you can visit the store.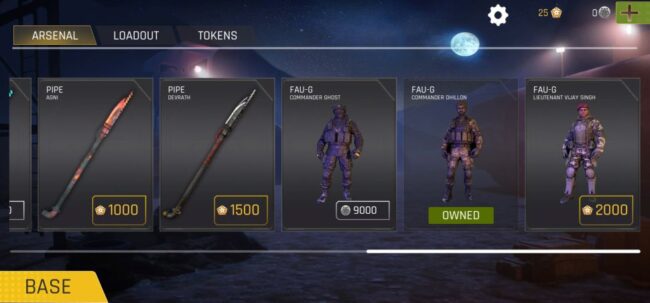 The store has different characters and skins for the main character, these skins can be applied to the default characters. Also, there are some different melee weapons that can be purchased using Gold Coins or Silver Coins. You have to buy these Gold Coins with real money while Silver Coins can be earned as people progress through the 'Honour Road' battle pass.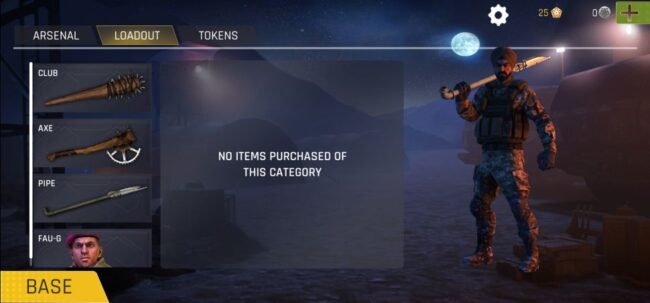 Players can customize their loadout and equip them with various weapons and skins, and also change their characters.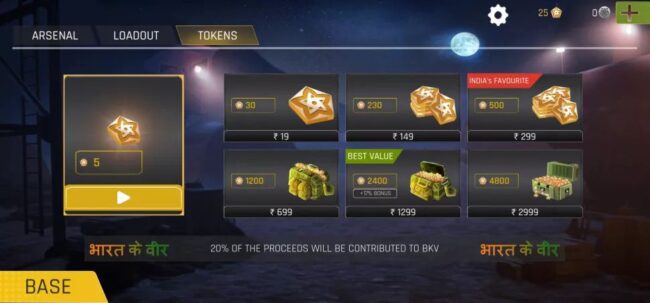 Inside the Token section, users can buy Gold Coins starting from Rs 19 for a Rs 30 coin. 2,999 for 4,800 coins. You can also get 5 gold coins for free by watching a video. It's mentioned that 20% of the returns will be added to the 'Bharat Ke Veer' trust.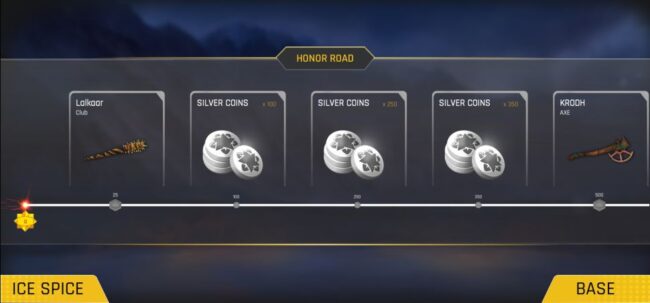 In addition, users can track the progress of their 'Honor Road' battle pass from the main menu. In this way, you can also earn some in-game items and other rewards that can be used in the store. There are no separate tiers for paid and free passes yet.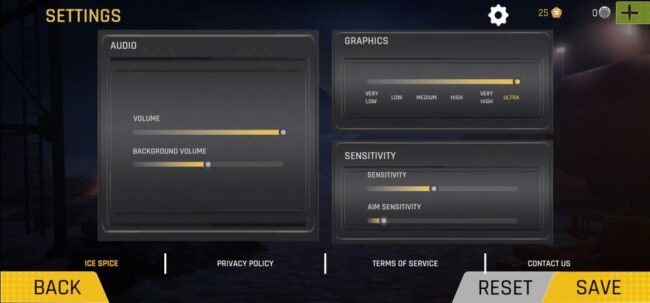 Talking about the 'settings' given in this game, there is no special customization available for users in it. You can play with only basic settings like volume, sensitivity, etc. There is a basic graphics customization also where you can set your game's graphic from 'Very Low' to 'Ultra'.
Gameplay
FAUG currently has only one campaign mode available to play which is the single-player mode. The campaign mode is named 'Tales from the Galvan Valley'. The game has three modes, one is the campaign mode, and the other is a 5v5 TDM mode which will be a multiplayer mode, and the last one is the 'Free for All' mode.
According to recent mentions of Vishal Gondal, the founder, and chairman of nCore, we can consider the 'Free for All' mode as a battle royal game. However, the game is currently available in a single-player mode.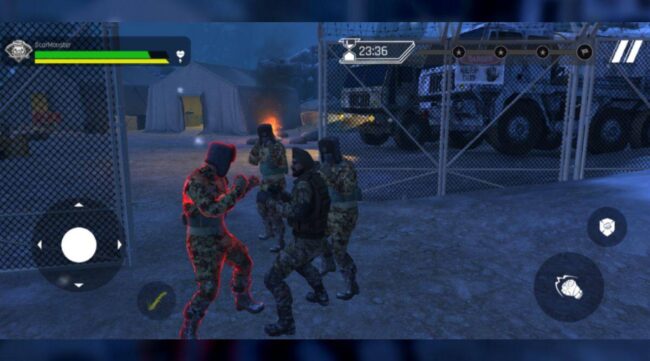 Moving on to game control, there is a three-button combat system, where you get a control pad through which you can only move your character around. To fight enemies, you get a combined button of a set of fists and kicks, slightly there is a button used to block or guard any attacks.
If you want to increase your health bar, you will get a fire camp after every fight where you can use the camp icon button. This will fill up your health bar to 100%.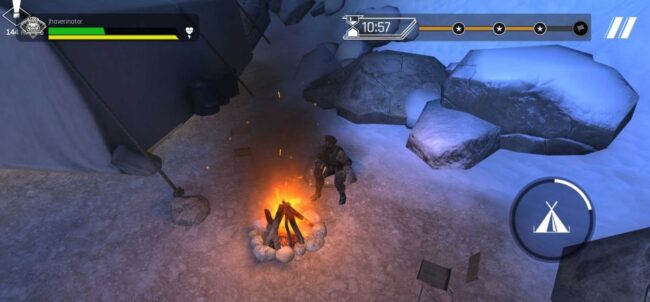 Story
FAU-G or 'Fearless and United Guards' is based on an actual scenario where the first level begins with third-person shooting gameplay. According to the story, a team of Indian soldiers tries to save their nation from terrorists, where enemies capture crew members and the main character tries to rescue others.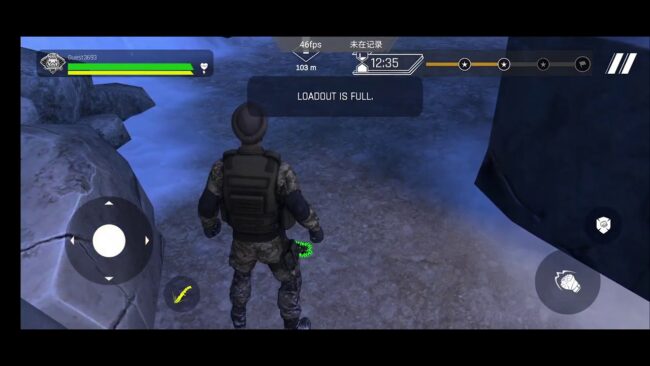 FAUG is in the Hindi language where some old dialogues from Bollywood films are used. Dialogues like "Apne bhaiyo ko bachana mera farz hai… aur unko pakadne walo ko marna… maza", "Wo hamesha toh wo borders ke peeche chhup kar nahi reh sakte" and "Mein kareeb pahuch raha hu… wo darr kar bhaag rahe hai". It wasn't enough that he screamed in the middle of the game, words like "Shakti Shakti Shakti" are used which makes this game even cheapy.
Weapons and Combats
I noticed that Combat has some fighting moves by Jackie Chan that make it interesting but also there are some extra kicks and fists that impair the move-set. Maybe we can see some new moves in future updates by nCore. Another thing we realized that when you fight an enemy, the other enemies chase you instead of attacking. Even they do not try to harm you.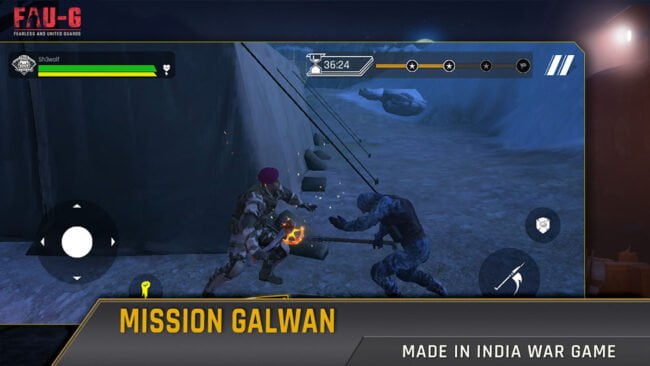 In addition, we can see only two types of weapons, one is the ax and the other is a spiral-pointed bat. These weapons can be used for a limited time, you can only defeat two enemies by attacking with one weapon. We also saw that if you try to change or throw weapons, there are no such options. The only way to do this is to kill your enemies and complete the range, this will eliminate your weapon.
Things that need to be Improved
Tent walls: If you go inside the tent, you can still hit the enemies outside.
Enemies: You can cross the level without fighting enemies, just ignore them.
Weapons: You cannot change or throw weapons, it needs to be fixed.
Fighting Combats: There are old move-sets in the game, some new fighting moves need to be added.
Difficulty: Campaign mode should be more difficult, as enemies may be more efficient
Verdict
Everyone was considering FAUG as an alternative, a rival of PUBG Mobile but it is not even close to the level of PUBG or any Battle Royale game. But there are some game modes left to launch in FAUG, such as TDM mode which is an online multiplayer mode, and also a 'Free for All' which could be a Battle Royal mode. So in the future, we may see FAUG as a competitor to PUBG Mobile.
The worst thing about FAU-G is that it has not become popular because of gameplay or features, but because of excessive hype. Nationalism is the major reason for so many downloads in 24 hours. As nCore is sharing 20% of its revenue to Indian soldiers, people are getting emotional and buying assets in this game only to pay soldiers.
Just suppose, if you are purchasing anything of Rs 100, nCore will take 80% of it and only give Rs 20 to the 'Bharat Ke Veer trust which is a very small amount.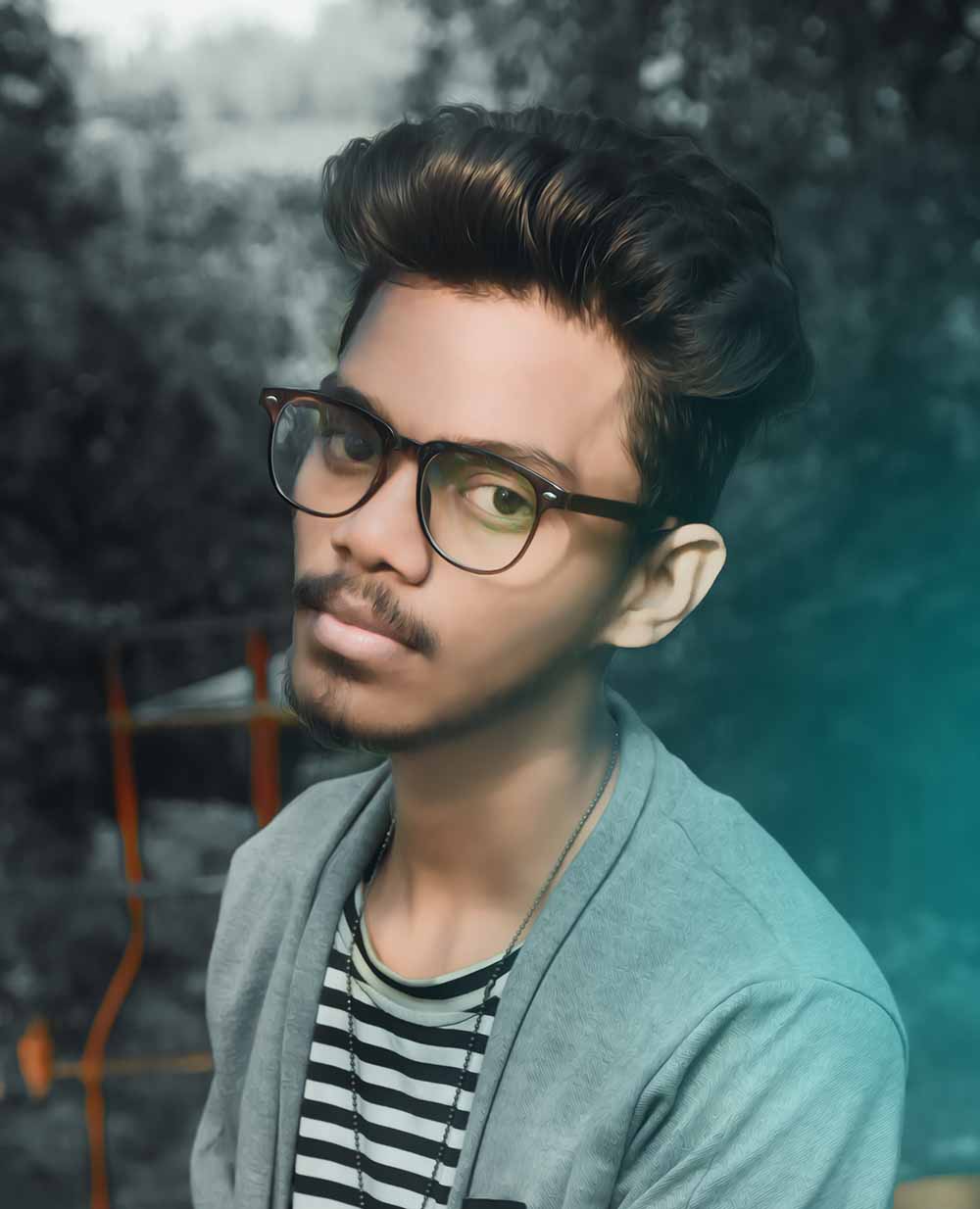 Chandramohan is a tech geek who enjoys writing about the Internet of Things, social media, and emerging technologies. He is an MCA student at GG University in Chhattisgarh with a strong foundation in computer science.