The unbeatable summer season of 2023 has begun in India. People are using Air coolers, fans, and other cooling stuff to avoid this excessive heat. But even so, using an air conditioner is the best way to keep the room cool.
Air conditioners from popular brands such as AmazonBasics, Blue Star, Haier, Whirlpool, etc., are the best ones to buy as they are easily available on both offline and online markets.
In this article, we'll discuss the best air conditioners under 30000 in India in 2023. These are pocket-friendly and one of the best air conditioners for less than 30000 INR.
Best AC under 30000
Contents 
All the air conditioners mentioned in this post are of a 3-star rating. In this, we have told about 0.8 Ton, 1 Ton, and 1.5 Ton Split AC. All these best ACs under 30000 are available on Amazon, where you can buy them.
Note- We have told you about the prices of all air conditioners. We have also told you the prices that were there at the time of publishing the article, but their prices may be more or less than that.
1.

AmazonBasics 1 Ton 3 Star AC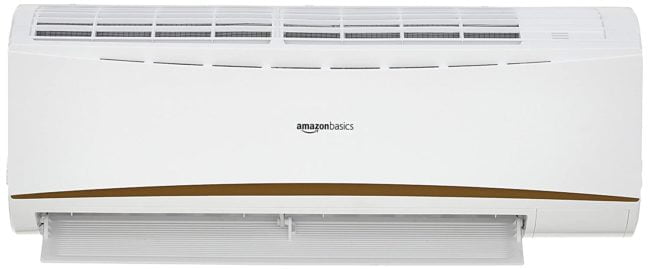 This AC is suitable for medium-sized rooms, has a 3-star BEE rating with power-saving mode, and an ISEER rating of 3.86. Includes multiple operating modes for special needs like auto mode, fan mode, dry mode, and sleep mode.
Coming to its warranty, there is a 1-year product warranty and a 5-year warranty on the compressor. During installation, if pipe extensions are required to connect indoor and outdoor units, please ask a technician to refill the gas for effective cooling.
Four-stage filtration system with micro dust anti-bacterial filter to keep out visible and invisible dust and other pollutants make the air healthy to breathe.
Intelligent features like auto-restart, auto-defrost, hidden display, emergency function, and self-diagnosis have been provided for a comfortable experience.
Eco-friendly R-32 refrigerant that is less harmful to the environment with low global warming potential and zero ozone-depleting potential. It is one of the best AC under 30000 in India 2022.
Pros
Easy to operate anyone
Quick turbo cooling
Low noise
Cons
Only Up & Down Swing, No Left & Right Swing
Remote quality is not good
| | Rs. 27,999 | |
| --- | --- | --- |
2.

Blue Star 0.8 Tons 3 Star AC

This AC has anti-corrosive gold fins which ensure that water or dust does not accumulate in the AC, providing uninterrupted cooling performance and better durability.
The Turbo Cool ensures faster, more effective cooling in minutes, even in extreme heat conditions. It's self-cleaning technology prevents the accumulation of any kind of moisture, mold, or dust within the indoor unit.
In case of any fault with its self-tested Blue Star ACs display an error code to ensure fast and easy diagnosis, thereby enabling proper care to prevent damage to the AC. It is one of the best ACs under 30000.
Its two-way auto swing is designed with motorized horizontal as well as vertical swing utility. Eco mode makes the compressor run slower and reduces pressure on the condenser. It drives the motor with less energy and increased efficiency.
Pros
Very low noise in indoor as well as outdoor unit
Gas used in the AC is Eco Friendly
Fast cooling
Good design
| | Rs. 27,990 | |
| --- | --- | --- |
3.

Onida 1 Ton 3 Star AC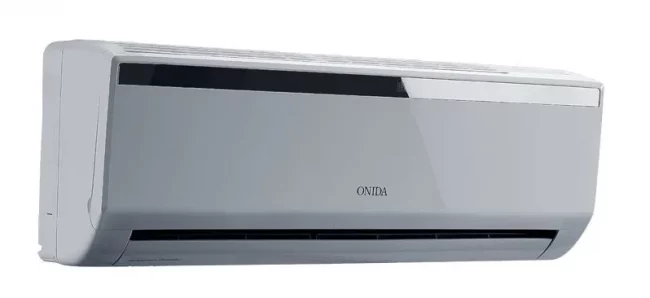 This AC features turbo cooling operation for high-speed cooling. It dissipates heat quickly and provides rapid cooling. This AC incorporates a 100% copper coil, condenser, pipe, and an installation kit to resist corrosion and deliver reliable and efficient performance.
Blue Fins technology protects the condenser coil from various external damages that can occur due to the accumulation of water, acids, and other salts. Thus, it prolongs the life of this device.
The remote of this AC comes with a temp sensor, which keeps the temperature around the remote controller the same as the set temperature. It is one of the best AC under 30000.
Filter cleaning automatically detects the need to clean the filter from time to time with the reminder feature. This AC uses R32 refrigerant gases, which have zero ozone depletion potential. Thus this AC is not harmful to the environment.
Pros
A labor warranty is included
The frame is very durable
Installation costs are low
Cons
Bad customer support
High upkeep costs
| | Rs. 28,750 | |
| --- | --- | --- |
4.

Lloyd 1.0 Ton 3 Star AC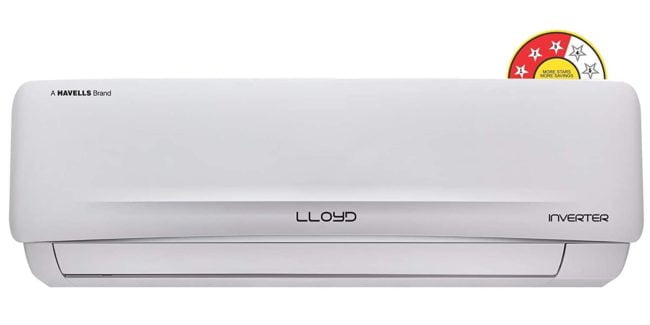 This AC can be operated through devices like Alexa and Google Assistant and through your smartphone. This AC inverter adjusts the power automatically with the compressor, and it runs with low noise.
The capacity of this AC is 1.00 tonnes, making it suitable for medium-sized (up to 110 sq ft) rooms. Its energy rating is 3 stars, and its annual energy consumption is 746.76 units. Talking about its warranty, there is a warranty of 1 year on the product and 10 years on the compressor.
It uses Nano Silver Green Anti-Bacterial Evaporator Coil, which kills most of the bacteria, fungus, mold, spores, and other microbes, and provides superior cooling.
The inner grooved copper tube helps with heat exchange and enhances cooling. It also increases the durability of the product. It is one of the best AC under 30000.
It also gets some exclusive features like – Voice and WiFi Enabled, Automatic Humidity Control, Anti-Viral, HEPA and Activated Carbon Filter, Cool Even at 52°C, Turbo Cool, Stabilizer Free Operation, 7m Long Air Throw, Silver Deco strips, Smart 4 way swing, Golden fins condenser, etc.
Pros
Stylish and decent built
PM filter built-in
WiFi feature
4-way swing
Cons
Fan speed is not up to the mark
Just 3.65 ISEER
| | Rs. 29,790 | |
| --- | --- | --- |
5.

Daikin 0.8 Ton 3 Star AC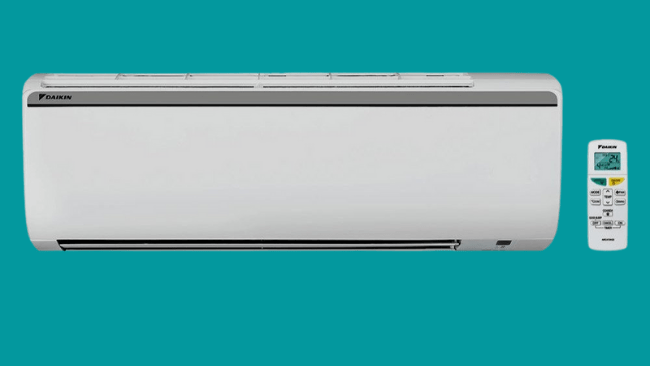 This summer you can buy this AC for your home, it is the best air conditioner according to the price. It has a capacity of 0.8 tonnes, which is suitable for rooms of small size (up to 100 sq ft).
Talking about its warranty, it gives a 1-year warranty on the product, 1 year on the condenser, and 5 years on the compressor. It is fitted with a copper condenser coil, which provides better cooling and does not require much maintenance.
Its noise level is non-existent, and its special features are power refrigerant operation to ensure quick cooling, and conda airflow for uniform cooling throughout the room. It is one of the best ACs under 30000.
The refrigerant gas R32 of this AC is environmentally friendly and has no ozone depletion potential. In this, you will get the indoor unit, outdoor unit, remote control, user manual, warranty card, and standard installation kit.
Pros
The AC is perfect for around a 100 sqft room
Installation was pretty fast and smooth
No noise and perfect cooling
Cons
Cooling takes at least 30 mins to cool initially
No temperature indicator in the indoor unit
| | Rs. 27,700 | |
| --- | --- | --- |
6.

Croma 1 Ton 3 Star AC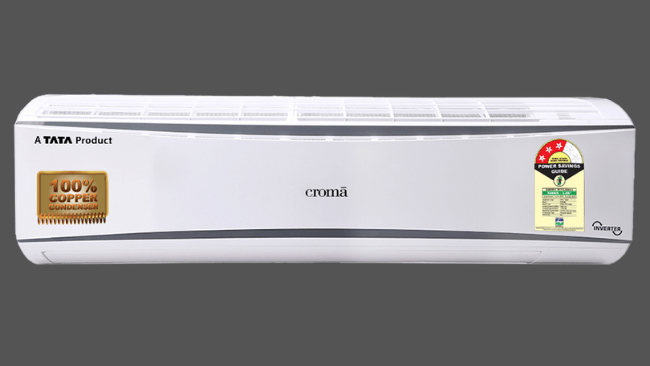 This AC is equipped with a 100% copper coil condenser, copper coil has been used, due to which the heat transfer is very fast, thereby cooling the room rapidly. It uses Chroma AC R32 refrigerant, which avoids harm to the environment.
This AC comes with an Activated Carbon PM 2.5 Filter, which traps fine particles like bacteria/mold, pollen, and other fine particles inside itself so that we do not have trouble breathing.
With five modes – Turbo, Dry, Auto, Sleep, Cool, this AC provides efficient and reliable cooling. It is one of the best AC under 30000.
Pros
Blue Fins at Evaporator and Condenser Coils
100% Copper Evaporator & Condenser
Modes- Turbo, Dry, Auto, Sleep, Cool
Hi-Grooved Copper Tubes
R-32 Green Refrigerant
Cons
Its services are not as good as all
| | Rs. 27,490 | |
| --- | --- | --- |
7.

Voltas 1 Ton 3 Star AC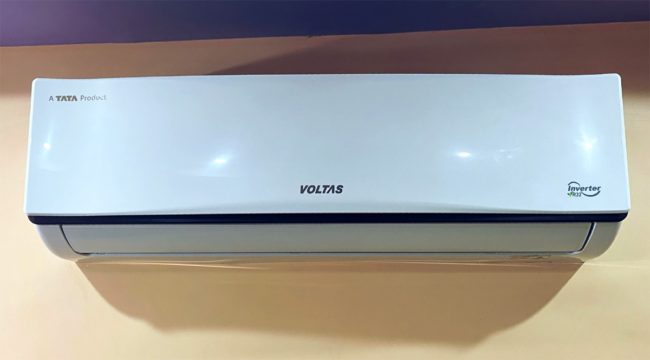 Voltas All-Star Inverter AC is powered by a Steady Cool compressor, providing steady cooling and steady savings. Which helps to consume electricity, and helps to maintain the temperature of the room.
This AC provides clean air by removing harmful odors, and at the same time, it gives only fresh and cool air. This AC also resets automatically. It is one of the best AC under 30000.
This AC from Voltas uses a 100% copper condenser coil, which is more durable and provides efficient cooling as well. It senses indoor humidity and regulates it according to the monsoon.
Powered by DC Inverter Technology, it also minimizes power consumption while maintaining an ideal temperature without having to switch the compressor on and off frequently.
Pros
Better price compared to other brands
Timely delivery and good service
Cons
There is some issue with the remote
| | Rs. 30,790 | |
| --- | --- | --- |
8.

Sanyo 1 Ton 5 Star AC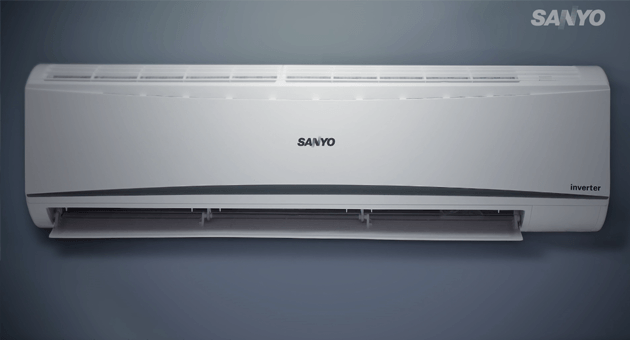 People are different, and their AC usage patterns are different too. Sanyo inverters operate at very high rotor speeds to suit AC conditions, resulting in dramatic energy savings, and reduced power consumption.
The Sanyo Inverter AC has built-in PM 2.5 and anti-dust filters, which help remove dust, pollen, and suspended particles. This allows up to 35% higher fan speed increases on medium mode to deliver instant cooling in less time.
Sanyo Inverter AC uses 100% pure copper coils for faster heat transfer and resistance to corrosion. You can control glow-in-the-dark temperature control and power on/off with the remote.
The Sanyo Inverter AC features the latest climate-friendly R32 refrigerant, which protects its condenser from accidental fire while ensuring zero damage to the ozone layer.
With Sanyo Inverter AC, you can save more on electricity bills. Which boasts of a high ISEER rating. It is one of the best AC under 30000.
Pros
AC cooling and functionality are excellent
Power consumption is very low
Sleep mode works excellent
Cooling is too good
Cons
There is no horizontal swing only a vertical swing
Remote control response is too slow
| | Rs. 28,990 | |
| --- | --- | --- |
9.

Whirlpool 1.5 Ton 3 Star AC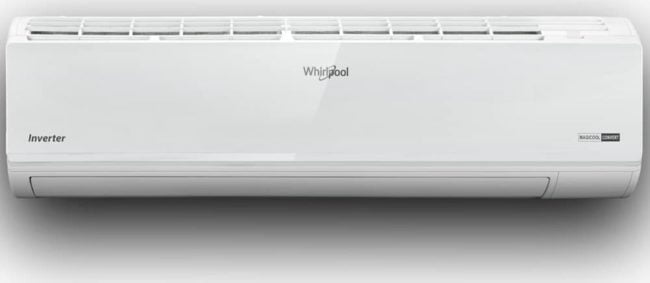 This AC has a speed compressor, which adjusts the power depending on the heat load. The capacity of this AC is 1.5 tons, which is suitable for medium-sized rooms. This AC provides you with better cooling and does not require much maintenance.
This AC comes with a 4-in-1 convertible option (0.9T, 1.1T, 1.3T, 1.5T), you can increase or decrease it anytime as per your requirement. This AC cools even at 50 degrees.
It includes features of dust filter, dehumidifier, and stabilizer-free operation. Its refrigerant gas R32 is environmentally friendly. It is one of the best AC under 30000.
If you want to clean the dirt accumulated inside the machine yourself, then you can do it yourself. It also has an auto-restart process in case the power comes on again after a power failure.
Pros
Zero impact on the ozone layer
Higher cooling capacity
Consumes less energy
| | Rs. 32,990 | |
| --- | --- | --- |
10.

Haier 1 Ton 3 Star AC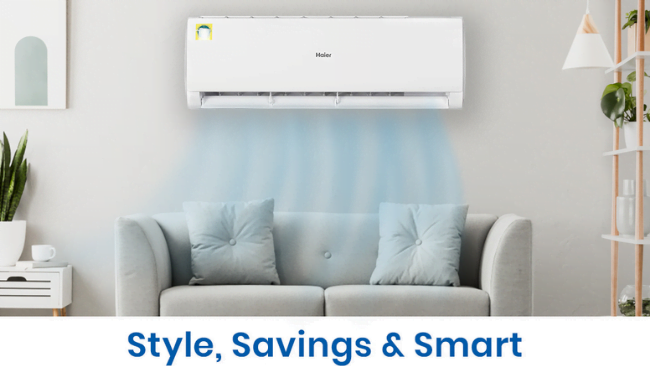 Haier Turbo Cool Haier AC is designed with smart, advanced, and innovative technology, which filters indoor pollutants without directly affecting the performance of the air conditioner.
This clean cool Haier AC can keep you cool even at the extreme temperature of 54℃. It not only removes airborne pollutants, and allergens. but also allows you to enjoy the comfortable and cool air.
Enjoy the cool and fresh air you want with this AC as this air conditioner comes with remote control, which provides smart cooling. It is one of the best AC under 30000.
Turbo Cool Haier Air Conditioner utilizes a smooth and high-end motor for operation at a low noise level so that you can experience a rich cooling experience without disrupting your daily activities.
Manufactured with a highly efficient grooved copper condenser and air duct, you can now achieve super-fast cooling in under a minute by pressing the TURBO button on the remote control.
Pros
Powerful Cooling Performance
Easy Remote Control Function
Long Distance Air Throw
Smart Filtration System
Cons
No backlit in remote
No remote stand
| | Rs. 29,690 | |
| --- | --- | --- |
11.

Candy 1.5 Ton 3 Star AC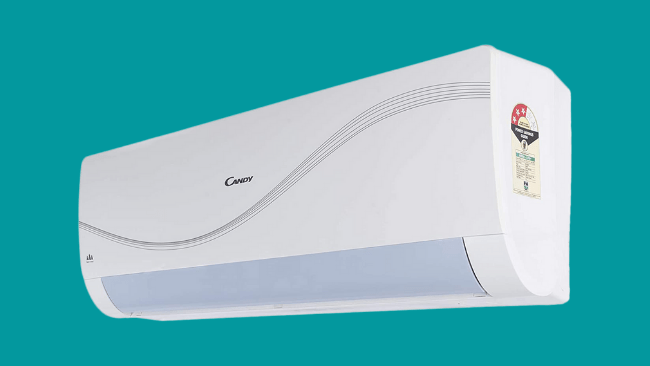 It is a Split AC with Dual DC Inverter Compressor which ensures cooling with maximum efficiency at low noise. This AC is 1.5 tons, which is suitable for rooms of 160 to 200 square feet.
This AC has a 3-star energy rating, which consumes about 1089.14 units per year, this AC comes with a copper condenser. It has a warranty of 1 year on the product and 10 years on the compressor.
This AC comes with Dual DC Inverter Technology and 15m+ long-range airflow. It comes with R32 refrigerant gas which is eco-friendly with no ozone depletion capability.
This AC includes 1 Indoor Unit, 1 Outdoor Unit, Inter Connecting Pipe, 1 Remote, 3 Manuals, and 1 Warranty Card, It is one of the best AC under 30000.
Pros
Good cooling less sound
Best AC in this range
| | Rs. 29,480 | |
| --- | --- | --- |
12.

Hitachi 1 Ton 3 Star AC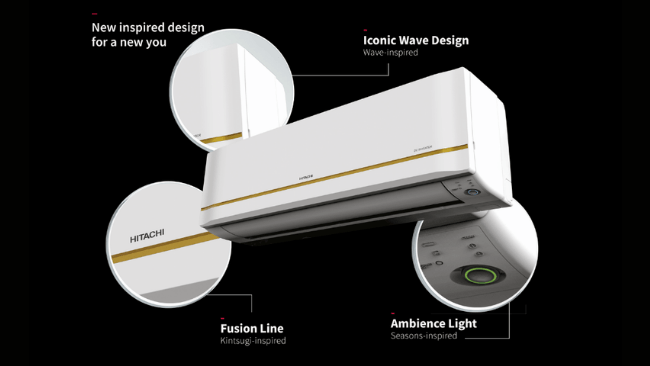 Take advantage of this is a reliable product that passes all rigorous factory tests. Introducing for the first time this AC, is an immersive display that helps you understand the atmosphere better and control the temperature more effectively.
This Hitachi AC uses 100% Inner Grooved Copper, which ensures rapid cooling with its turbulent refrigerant flow, which increases the heat transfer rate
This AC is specially designed, the advanced microcontroller checks the indoor and outdoor conditions, and radically changes the compressor speed, thus providing uninterrupted cooling.
Hitachi's intelligent Penta sensor technology with its advanced microcontroller provides perfect cooling even in extreme heat conditions. Hitachi ACs are designed to keep cool and work efficiently up to 52°C.
Hitachi AC's Superslit fins have multiple slits that provide more heat exchange areas and cool rooms faster. It is one of the best AC under 30000.
Pros
The noise level is very less
Copper Condenser
Cooling is Fine
Small in size
Cons
No temperature display in the inner unit
The Remote is too basic
| | Rs. 30,290 | |
| --- | --- | --- |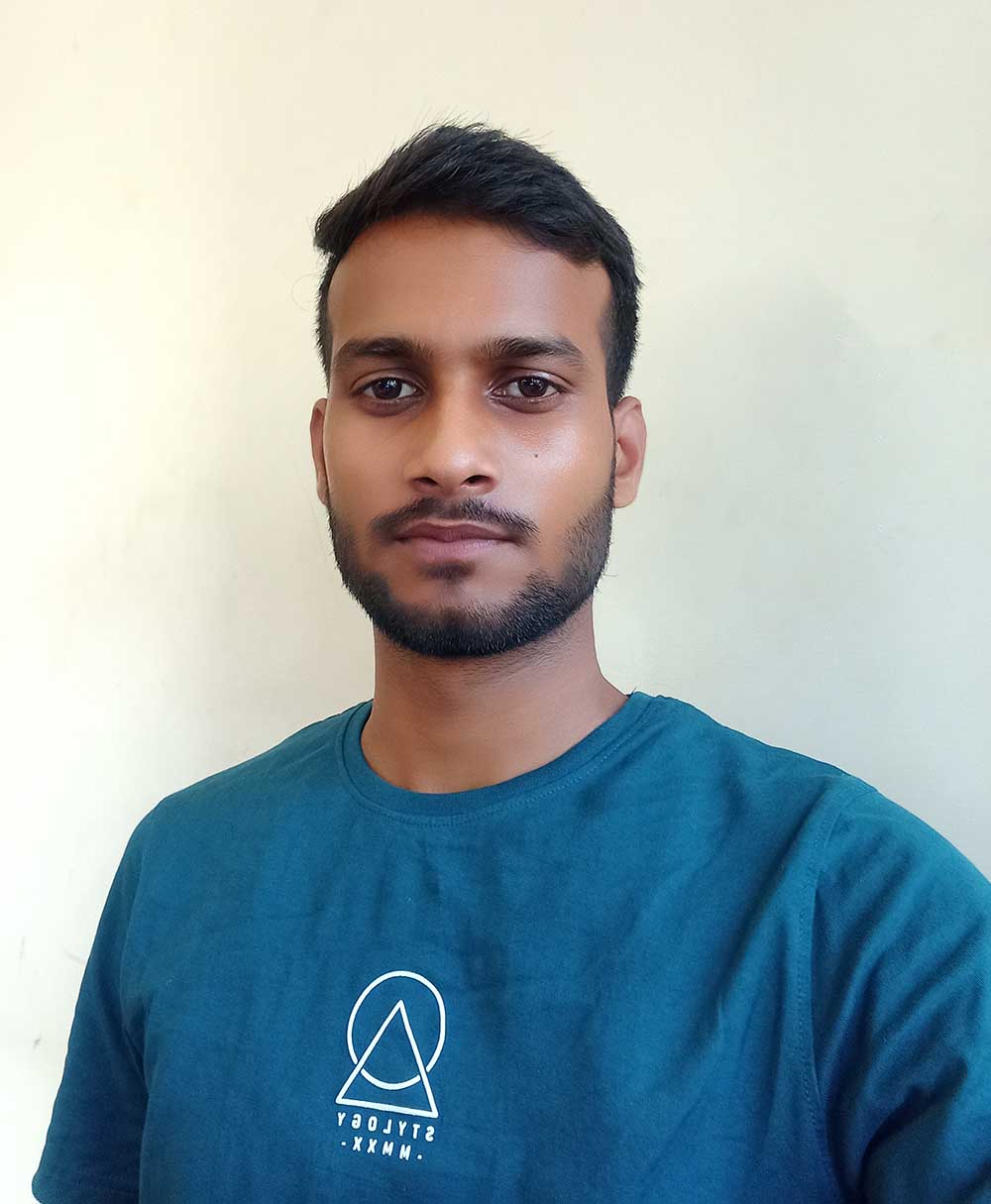 Ashok Kushwaha is Senior Editor at Digital Bachat with 5 years of experience covering mobile phone and computer technology. He enjoys sharing the most valuable smartphones and laptops.