This article will walk you through the best free web hosting providers and the best free website builders to help you cut costs. In this, you will also get to know about some of the best web hosting in India.
You need hosting for your website to run and for security. We have made a list of the 5 best free web hosting providers, out of 5 free web hosting providers, Infinityfree Bayhost, 000Webhost, Googiehost, FreeHostingNoAds, and FreeWebHostingArea top the list with other options.
We have also found that many of the free web hosting providers' websites were not secure enough to deliver the level of service you expect from paid providers. The old saying goes, you get what you pay for?
Our advice would be, you should stay away from free web hosting services completely. Because it is not a good option. If you do not have much budget, then you can opt for cheap web hosting services. If you still want free web hosting, scroll down to see the list. Which can be called the best free web hosting so far.
Here are the Best Free Web Hosting For 2022
Contents
Can Free Web Hosting Be Good?
Mostly not. It's free, it has many drawbacks. There is a very limited amount of things you can do with this, the deal on these websites is not secure either. As we have already mentioned, it is much better to choose a cheap web hosting provider instead of free web hosting.
1.

Infinityfree

Infinityfree is good in the world of website hosting. It is a well-designed website, it just ticks the right box for us. The performance gets a C grade in our tests when it comes to the load time of its homepage, apart from that, it looks pretty solid.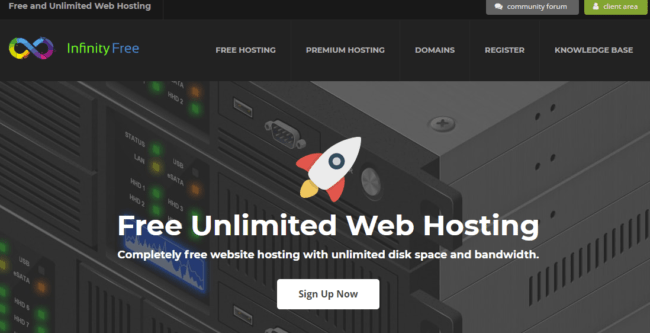 Infinityfree hosting has been in business for more than six years. It claims to have over 400,000 users. This hosting offers unlimited disk space and bandwidth, you can host as many domains as you want, but you'll only get 10 email accounts and one FTP to upload your content.
This hosting has no fees, and despite being free, gives you a 99.9% uptime guarantee, and has the popular Softaculous Scripts installer with over 400 applications.
This provider lists 400 MySQL databases, a free DNS service, free SSL, and free Cloudflare CDN. This is quite an impressive hosting for the free offering.
InfinityFree also sells cheap paid-for hosting, which charges $6.90 per month, providing unlimited everything, which is well worth the upgrade, as after the upgrade you'll also get access to Cloudflare Railgun, which will keep your site loaded. Cuts down on time significantly.
Specification
FTP accounts
1
Email accounts
10
Disk space
Unlimited
Subdomains
Unlimited
MySQL databases
400
Domain Hosting
Unlimited
Monthly traffic
Unlimited Bandwidth
Check Out: Infinityfree Free Web Hosting
2.

FreeHostingNoAds

FreeHostingNoAds delivers exactly what it says. It says that ours is free web hosting without any ads. But it offers unlimited disk space and unlimited traffic, which charges around $2.49 per month. FreeHostingNoAds offers a small subset of what you get with a paid account.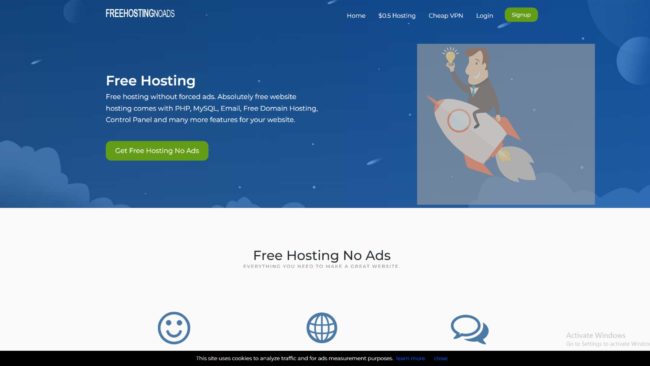 It uses the same dashboard as Batcave (1GB/5GB/1 domain) and FreeHostingEU (200MB/4GB/5 domain). These share a similar set of features with FreeHostingNoAds. In this, you get an SSL certificate, which will give all kinds of important security padlocks to your browsers.
For this, you will have to pay an attractive tax payment of $30. If we talk about Jackie Tools Installer, then the control panel through it is very limited, in which Grave, WordPress, or Joomla can be installed in one click. But keep in mind, the file size limit is only 15MB.
Creating a new account is straightforward, but we were a little concerned, that the account email might land directly in our spam box. We have a suggestion that some sites hosted by FreeHostingNoAds may go on the reject list as well.
Specification
FTP accounts
1
Email accounts
1
Disk space
1GB
Subdomains
3
MySQL databases
1
Domain Hosting
1
Monthly traffic
5GB
Check Out: FreeHostingNoAds Free Web Hosting
3.

000Webhost

In a way, 000Webhost is our fifth choice, which provides free website hosting, owned and operated by Hostinger. 000Webhost is almost 10 years old, has millions of users, which unfortunately become a prime target of thieves.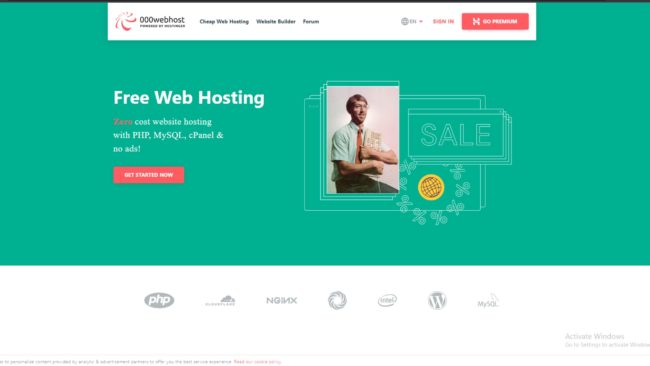 In 2015 its entire database was stolen. This was followed by a settlement with the details of 13.5 million accounts. Since then 000Webhost has completely changed but many users still remember the piracy.
In 000Webhost you will also find cPanel, a website builder, and a WordPress auto-installer, another advantage of this, is that it has no ads. It's notably low with 3GB of bandwidth and only 300MB of disk space. There's no SSL certificate.
There is an absence of subdomains and email accounts. Its account creation email was flagged as a suspicious email by Google, with a pop-up warning that malware often comes from the same URL.
Specification
FTP accounts
1
Email accounts
0
Disk space
300MB
Subdomains
0
MySQL databases
1
Domain Hosting
1
Monthly traffic
3GB
Check Out: 000Webhost Free Web Hosting
4.

Googiehost

Eight-year-old Googiehost is one of the better choices of free web hosting providers. The website of this company inspires confidence. In the year 2018 itself, its copyright notice was extended till 2021. Also, there are grammatical mistakes, last of all, reliable, powerful.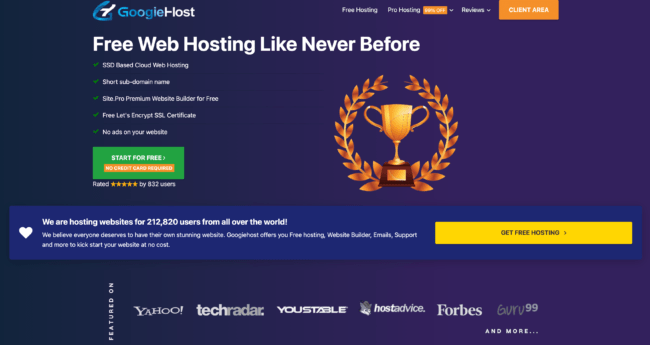 It apparently has around '2,12,820' users worldwide. This is the only provider that comes with cPanel and Cloudflare. Although it is free. We have experienced some instances where we have a dreaded pop-up on our screen while opening cPanel. This is not a good sign, as Chrome is not considered secure.
Its revenue model depends on some free websites, which convert from Interserver.net to paid-for affairs. It also runs some banner ads on the control panel and on its website. But at the same time, it also takes care not to run ads on users' sites.
Specification
FTP accounts
2
Email accounts
2
Disk space
1GB
Subdomains
2
MySQL databases
2
Domain Hosting
1
Monthly traffic
100GB/Unlimited
Check Out: Googiehost Free Web Hosting
5.

Byethost

ByteHost, part of Byte Internet, provides US-based hosting, domain name, and reseller services. It claims to host over a million websites. It is the most powerful network dedicated to the best free hosting in the world.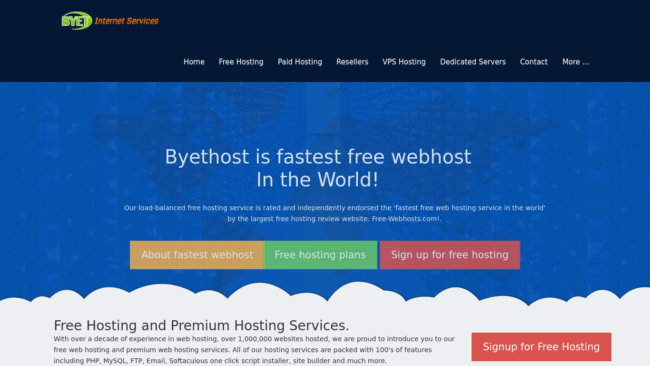 This hosting gives users 50GB monthly bandwidth, 1GB server space, and MySQL/PHP compatibility. It also benefits from 24/7 technical support, which has proved to be a boon.
If you are interested in becoming a free web hosting provider yourself, Byehost is operated by a separate entity called myownfreehost, which will allow you to do the same.
Specification
FTP accounts
1
Email accounts
5
Disk space
1 GB
Subdomains
5
MySQL databases
5
Domain Hosting
1
Monthly traffic
50GB
Check Out: Byethost Free Web Hosting
Conclusion
If you use free web hosting, then know that it has more cons than pros. You don't pay a single penny for this. It might be an okay option to try yourself, but good hosting is almost always better than paying, and some are even cheaper to pay.
We hope, you have liked this article very much, if we talk about the best web hosting available in this post, Infinityfree is the best in this. All this hosting is good enough for 2022.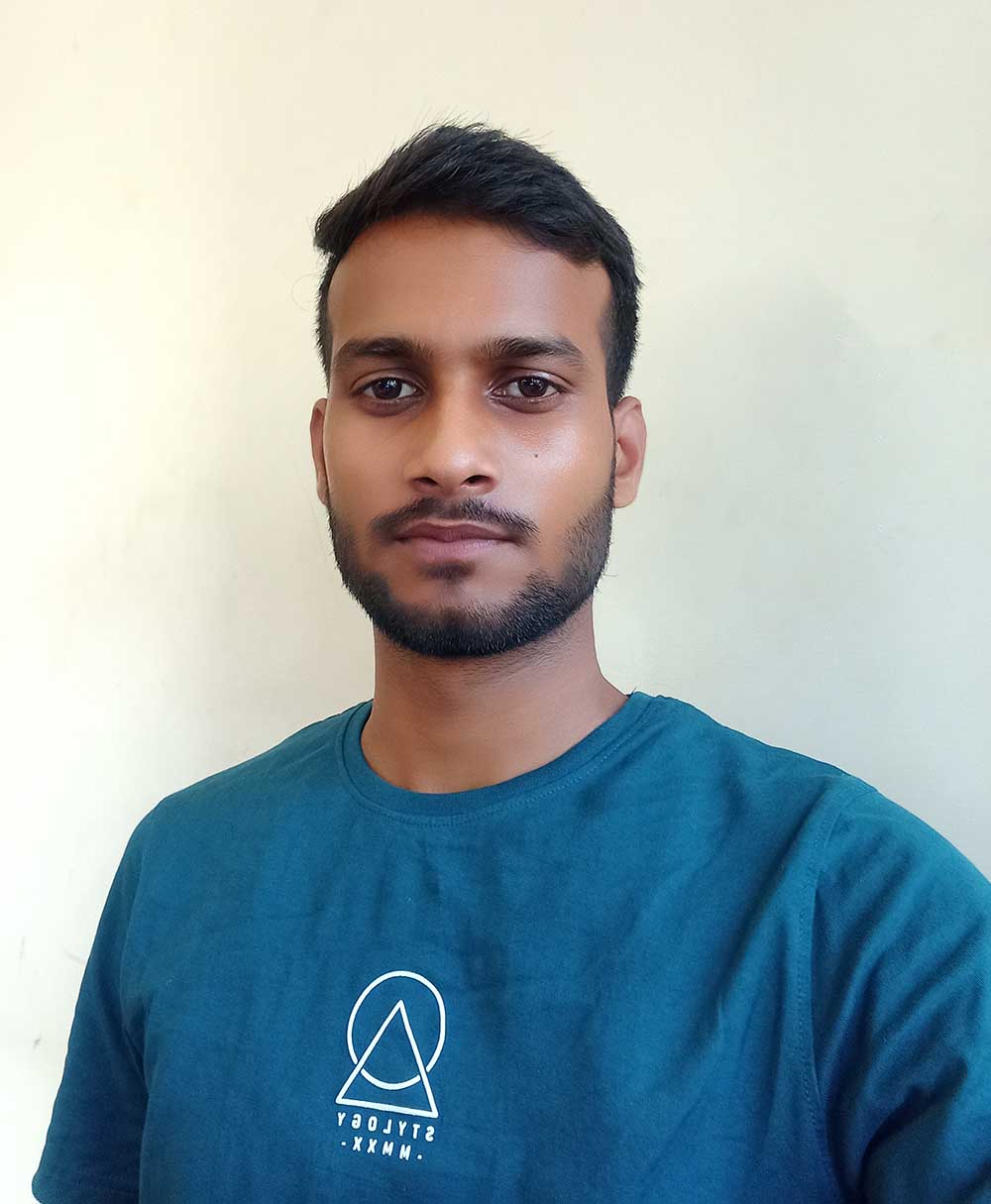 Ashok Kushwaha is Senior Editor at Digital Bachat with 5 years of experience covering mobile phone and computer technology. He enjoys sharing the most valuable smartphones and laptops.