For the past few years, the mobile gaming industry has been booming across the world, especially in India. The e-sports industry has grown since the launch of battle royale games like PUBG Mobile, Call of Duty Mobile, Free Fire etc. and is now considered as a career option.
As mobile games are getting modern graphics and mechanisms, they require smartphones with higher specs. That's where gaming phones enter the room. Gaming phones tend to have high-spec hardware as well as additional features dedicated to gaming.
Some gaming smartphones like the Asus ROG and Redmagic wear their personality on their sleeve. Because they dazzle with RGB lights, better cooling, and bigger logos. However, top companies like Apple, Google, and Samsung that focus on cameras and displays still offer gaming-like hardware.
So which gaming smartphone would be the best to consider in 2023?
Don't worry, you don't need to go through research as we have put together a complete list of the best gaming phones to pick up in 2023. We've tested these smartphones by playing modern and heavy games and ranked them based on their pros and cons and the value they provide as per their price point.
5 Best gaming phones in 2023
Contents 
The iPhone 13 series has taken us all by surprise by becoming a better gaming phone than a dedicated gaming phone.
The main reason for this is Apple's continuous superiority in chip power, as well as the two Pro models' new 120Hz adaptive refresh rate display.
1.

iPhone 13 Pro Max

Best gaming phone for iPhone users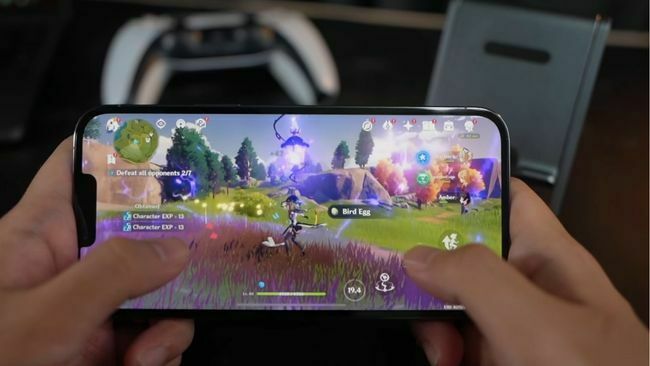 The latest iPhone 13 Pro Max from Apple is the best gaming phone money can buy. Even the finest of what Android has to offer cannot compete with the new large iPhone.
This phone can handle any mobile game, thanks to the very strong A15 Bionic chip, 120Hz display, and much-improved battery life. The iPhone 13 Pro Max is the best phone you can purchase, not just the finest gaming phone.
It has excellent cameras, a stunning 6.7-inch OLED display, and a host of functions that make it a joy to use in everyday situations. It can also have up to 1TB of storage, so you'll never run out of room for the best iOS games.
Surprisingly, players who export overseas prefer to play and practice on the iPhone in games like PUBG Mobile and Garena FreeFire.
This is because the efficiency of Apple's CPUs allows for reduced heat dissipation, resulting in a more comfortable gaming experience during long sessions.
Specification
Display
6.7-inch OLED (2778 x 1284)
Peak refresh rate
120Hz
CPU
A15 Bionic
RAM
6 GB
Storage
128GB, 256GB, 512GB, 1TB
Cameras (back/front)
12MP main, ultrawide, telephoto
12MPWeight: 8.5 ounces
Battery life
22 Hours
Water-resistant
Rated IP68
Pros
A15 Bionic CPU more powerful than the competition
Bright and colorful 120Hz display
Excellent photography abilities
Strong battery life
Cons
128GB of storage on the entry model
Expensive compared to rivals
| | Rs. 1,19,900 | |
| --- | --- | --- |
2.

OnePlus 10 Pro

Best gaming phone for Android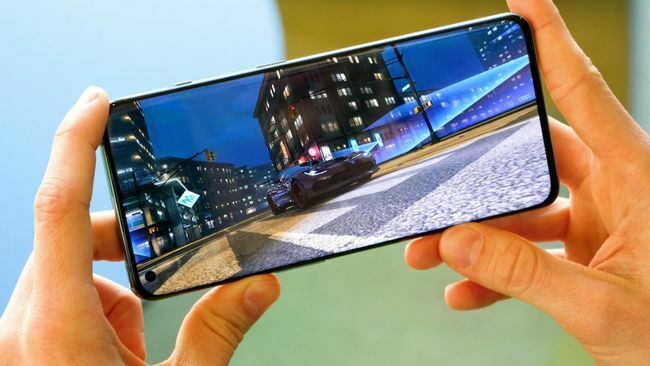 The Snapdragon 8 Gen 1 system-on-chip, which powers the OnePlus 10 Pro, is found in the best-performing Android phones these days. As a result, even the most demanding games run well on this device.
Gamers will especially like the phone's 6.7-inch display with a 120Hz refresh rate's extended battery life – roughly 12 hours even with the adaptive refresh rate activated.
The OnePlus 10 Pro's price is likely its most appealing feature. While other flagships are approaching $1,000, the OnePlus 10 Pro is only $899. It's unusual to find a top-tier phone with so many premium features at that pricing.
Specification
Display
6.7-inch AMOLED (3216 x 1440)
GPU
Snapdragon 8 Gen 1
RAM
8GB, 12GB
Storage
128GB, 256GB
Rear cameras
48MP (f/1.8) main, 50MP (f/2.2) ultrawide,
8MP (f/2.4) 3.3x telephoto
Front Camera
32MP (f/2.2)
Item Weight
200g
Battery life
11:52 (120Hz), 12:39 (60Hz)
Pros
Top performance among Android phones
Adaptive 120Hz refresh rate
Excellent battery life
| | Rs. 61,999 | |
| --- | --- | --- |
3.

Google Pixel 6 Pro

An Android phone that offers more than gaming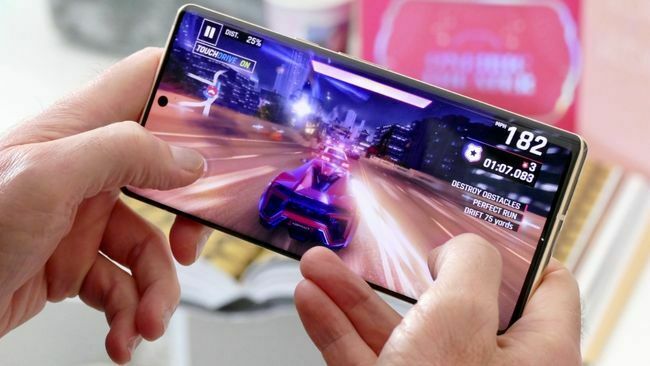 You might not expect Google Phones to make the list of greatest gaming phones, but Google delivered with the Pixel 6 Pro.
The Pixel 6 Pro is a terrific choice for your next gaming phone due to its excellent performance and unexpectedly good performance from the new Tensor chip.
But it isn't all. Not only does the Pixel 6 Pro excel in games and benchmarks, but it also thrives as a phone. It lacks some of the flashy features seen in other gaming phones, but it has one of the best cameras available on an Android phone.
After all, you probably want your phone to be capable of doing other things as well. If we had to pick one criticism about the Pixel 6 Pro, it would be the battery life.
While the battery is undoubtedly large enough to last for hours, the phone performed poorly in our battery life test. However, in our regular use, even with demanding games and Xbox Game Pass, the phone performs admirably.
Specification
Display
6.7-inch
CPU
Tensor
RAM
12GB
Storage
128GB, 256GB, 512GB
Rear cameras
50MP main (ƒ/1.85), 12MP ultrawide (ƒ/2.2),
48MP telephoto (ƒ/3.5) with 4x optical zoom
Front Camera
11.1MP (ƒ/2.2)
Battery
5000mAh
Battery life (Hrs: Mins)
7:49
Pros
More affordable than other flagships
Tensor performs well
Beautiful new design
Incredible cameras
Cons
Shorter battery life than competitors
| | Rs. 67,880 | |
| --- | --- | --- |
4.

Asus ROG Phone 5

Longest-lasting gaming phone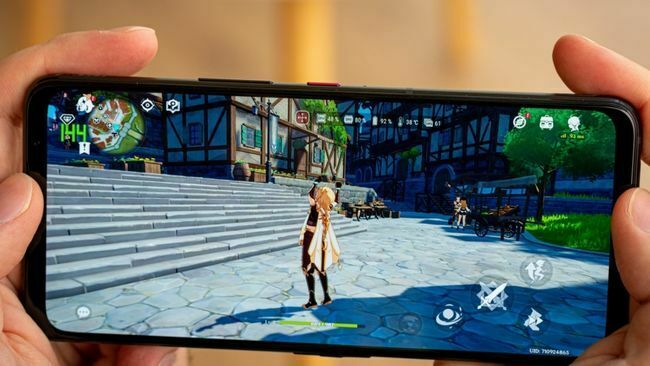 The Asus ROG Phone 5 has a 6.78-inch Full HD+ AMOLED display with a refresh rate of 144Hz. It offers incremental improvements and is a better choice for mobile gaming fans.
The ROG Phone 5 is available in three models: ROG Phone 5, ROG Phone 5 Pro, and ROG Phone 5 Ultimate. On paper, the specifications of all three models are identical, with the sole change being RAM and storage.
However, the most significant change has occurred in terms of design. The Pro and Ultimate have a monochromatic look, however, the standard ROG Phone 5 has an RGB logo.
The Snapdragon 888 CPU with up to 18GB of RAM powers all three phones. In addition to the internal cooling technology, an extra AeroActive Cooler 5 fan is available (included in the box for Pro and Ultimate).
Specification
Display
6.78″ FHD+ AMOLED, 144Hz
Processor
Snapdragon 888
RAM
8GB
Storage
128GB
Rear camera
64+13+5MP
Front Camera
24MP
Battery
6,000 mAh
Charging
30W (supports 65W)
OS
Android 11
Weight
242g
Thickness
10.3mm
Pros
Neat built-in gaming features
Great display and speakers
Remarkable performance
Cons
No 65W fast charger in the box
Still no telephoto lens
Bulky
| | Rs. 41,999 | |
| --- | --- | --- |
5.

Samsung Galaxy S22 Plus

A well-rounded Android gaming phone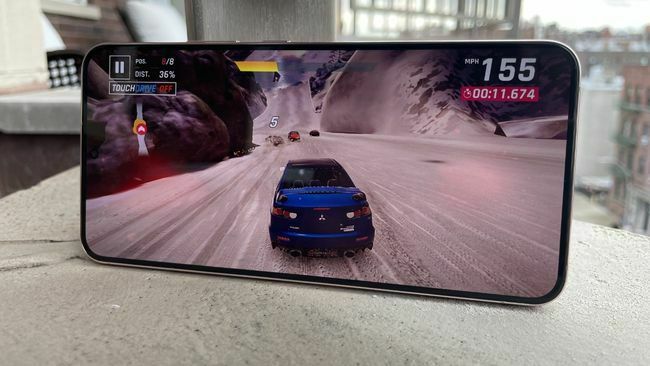 If you want a good Android phone that can compete with flagships, the Samsung Galaxy S22 Plus is a fantastic option.
The S22 Plus, like many other flagships this year, includes a 120Hz display and a Snapdragon 8 Gen 1 processor. It may only have 8GB of RAM, but that isn't a hindrance.
In every sense of the word, it is still fast. Furthermore, its 5G capability includes millimeter-wave networks as well as sub-6GHz networks, enabling the best data rates on the planet while gaming online away from home.
Although it does support Xbox Game Pass, the Galaxy S22 Plus doesn't include many dedicated gaming features—simply it's a terrific (and, sadly, somewhat costly) flagship gadget that also happens to be one of the best gaming phones.
Specification
Display
6.6-inch Dynamic AMOLED
Peak refresh rate
120Hz
CPU
Snapdragon 8 Gen 1
RAM
8GB
Storage
128GB, 256GB
Cameras (Back/Front)
50MP wide, 10MP telephoto,
12MP ultrawide / 10MP
Battery life (Hrs: Mins)
9:46
Battery
4,500 mAh
Pros
The effective feature set for multi-purpose use
Gorgeous 120Hz AMOLED display
Cons
Below-average battery life
Expensive
| | Rs. 88,999 | |
| --- | --- | --- |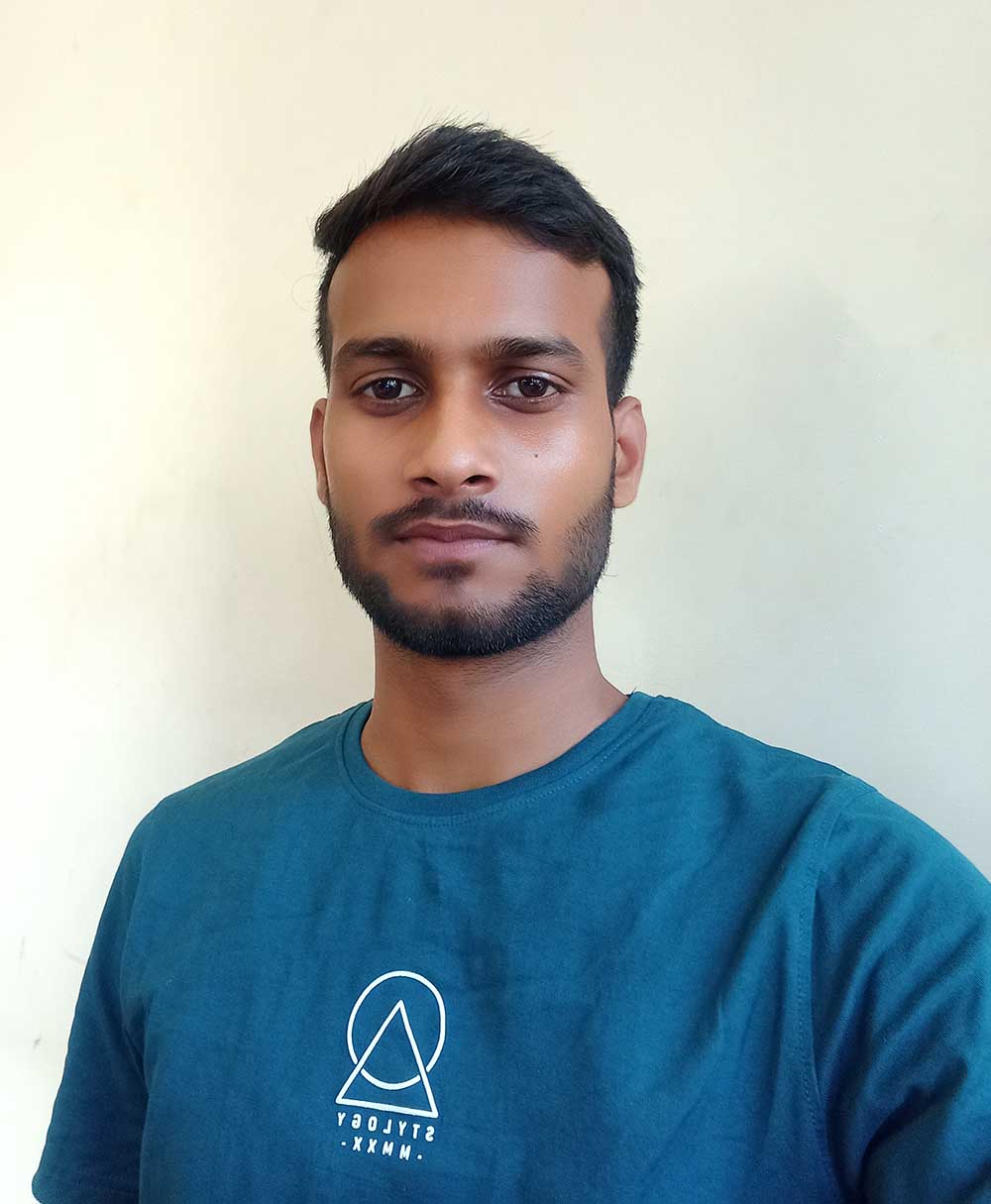 Ashok Kushwaha is Senior Editor at Digital Bachat with 5 years of experience covering mobile phone and computer technology. He enjoys sharing the most valuable smartphones and laptops.