LG Signature Series OLED TV R (65R9 rollable television) review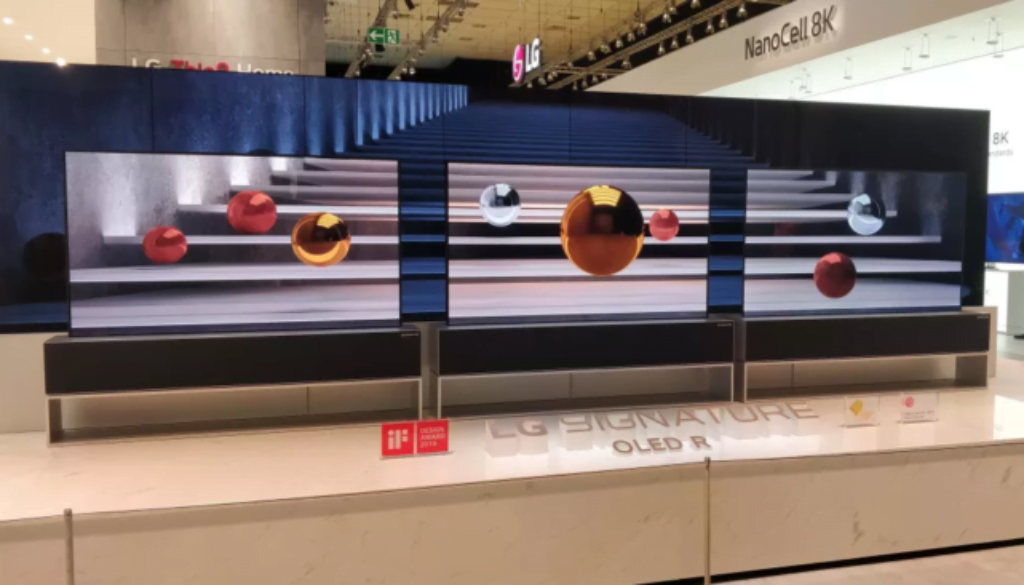 EARLY VERDICT
The brand new LG signature series OLED TV R is a 65-inch rollable OLED TV that has impressive style and pictures performance. The release date is expected in mid-2021 but not confirmed yet.
PROs:
Great OLED picture performance
WebOS 4.5 with Alexa.
2nd-Gen Alpha a9 Processor
Good for 50,000 unfurlings
CONs:
Single stand option
800-nit peak brightness
Same panel as other OLEDs
LG Signature Series OLED TV R: Overview
A rollable tv could be harder for your head to wrap it around the picture. The new LG Signature Series OLED TV R is the result of engineering and display technology that had risen to the 'nth' degree.
Its Sci-fi picture quality clarifies – you have not seen any TVs like LG Signature Series OLED TVs that collapse on themselves without being destroyed, isn't it?
LG's rollable OLED TV is now available and on sale in South Korea, but it's not rolled out globally and expected to be released in mid months of 2021. We can expect the price of it by considering its price in South Korea which is Rs. 64,10,882.10 / $87,000. It's a bit cheaper than we'd expected as it would be $100,000.
Although it's a lot of money and expensive for a regular customer, but it worths it cause of its technology, designs, and great picture performance.
Highlights: LG Signature OLED TV R
Price and availability
The LG Signature Series OLED TV R (65R9) is currently available in South Korea, where the price tag is ₩100,000,000 which costs around Rs. 64,91,287.50 / $87,000 / £67,000, and $123,000 in Australia.
Well, it's a big price amount for the Indian consumers, but as we've told it's not the actual price. It could be different for other regions.
If we talk about its availability, we can expect it to be launched in mid-2021. As we've seen how LG has teased us about its launch event from past years, and now it has launched in South Korea, so we can say that the global launch of LG Signature Series OLED TV R is near.
Design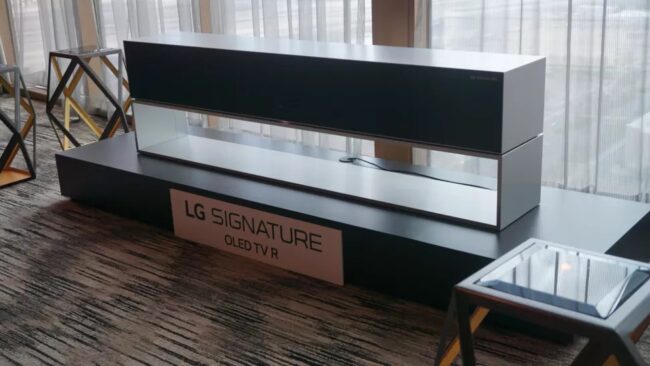 The LG has created a base for its Signature OLED TV R series by providing natural flexibility, a great storage facility, sound system, and unfurling mechanism. The base is 60 inches long but half vertically across, which is enough space for the screen, and 4.2 Atoms sound system.
The main connectivity unit which has all the inputs and outputs, built-in backside on the top of the white panel stand that comes with every LG 65R9 OLED. If you like the white color, you are going to love the base stand while the TV is turned off but if you like the white color but if you don't! you are unlucky because it comes in only one color.
The single color option could be the reason for disappointment, the stand is low to the ground and has space for storage, and fairly innocuous. The LG Signature Series OLED TV R can be furled and unfurled itself around 50,000 times, so if you turn the TV on and off twice a day, it can achieve a life span of 34 years.
When you turn on the TV, a top portion of the TV slides back and unrolls itself into an upright position. The TV can either display a small part of the screen or extend its 65-inch full display.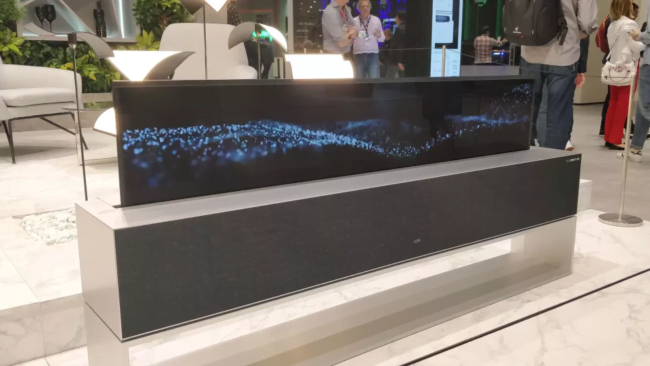 Whenever we play any movie or watch the tv, it uses a whole 65-inch screen, while it uses the small part of the screen whenever we play music, use Mood mode, or any type of small visual effects.
At the back, you'll see an HDMI 2.1 ports that can support 4k120 playback after an update later this year. Its HDMI 2.1 will also support the HRF content after the update.
Performance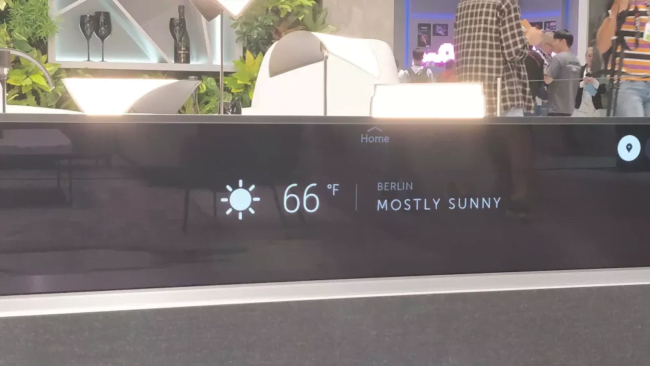 Once the TV is fully exposed, you'll see the 4K HDR OLED TV set which screen is much beautiful than LG's previous TV screens. The best thing about this TV screen is, it's quite good like before even there're a lot of changes in its technology.
OLED picture quality is still better than standard LED-LCD screens like Philips OLED 805/855. However, the latter needs to be more brighten to provide the best experience in a brighter room – but when it comes to best cinema-quality picture and black level performance, the LG OLED TV R wins.
The 65R9 comes with the next-generation Alpha a9 processor that provides deep learning picture quality. Also, it has the ambition light detection feature that allows you to adjust the PQ curve of a TV depending on the ambition brightness in the room.
For example, When it's daytime the TV will recognize the additional lights and set the brightness to the max value to compensate, and reverse this process at night.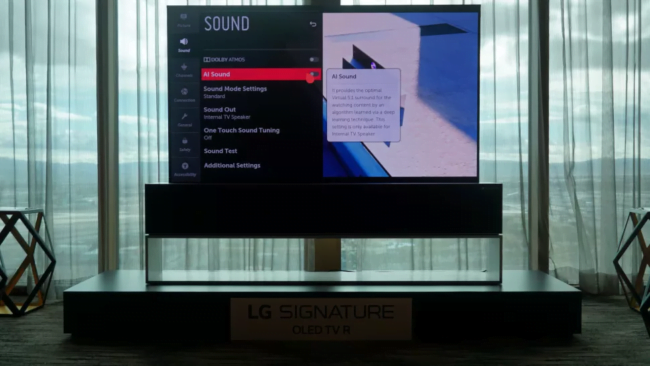 The LG Signature OLED TV R has a new AI Sound mode that virtualizes the audio for large spaces like a long hall by upgrading the forward-firing speaker's audio performance. The other speakers are quite similar like a lower-end atoms sound system even without playing atoms sound compatible contents.
The last highlighting feature of LG Signature OLED TV R is the WebOS 4.5 platform, which makes it the first LG UHD TV of 2019 that has the latest WebOS 4.5 operating system. The main difference in this year's LG's TV OS is its double methods to access the amazon features via a button – first, a short press brings up Amazon Prime Video while a long press brings up Amazon's virtual assistant.
So you can sure that the LG Signature TV R doesn't have Google's Assistant or LG's own ThinkQ smart platform, although you can access them by long-pressing the press to talk button through the LG Smart Remote.
Early Verdict
Although the OLED still is not hitting the highlights than LCD-LED, but the OLED technologies are still one of the best TV technology in every country. Combine OLED's picture performance, ambition light technology, and atoms firing sound system makes it different than other OLED TVs. The Rollable base stand of this TV makes it unique which is the main highlight of the LG Signature OLED TV R.
Well, it's only available in South Korea with a price point and yet to arrive globally that's why the pricing could be the main concern for it but we can expect different prices for different countries. We'll suggest you wait for the global release so that we can provide you our best verdict on it.