Dell G5 15 SE (2020) Review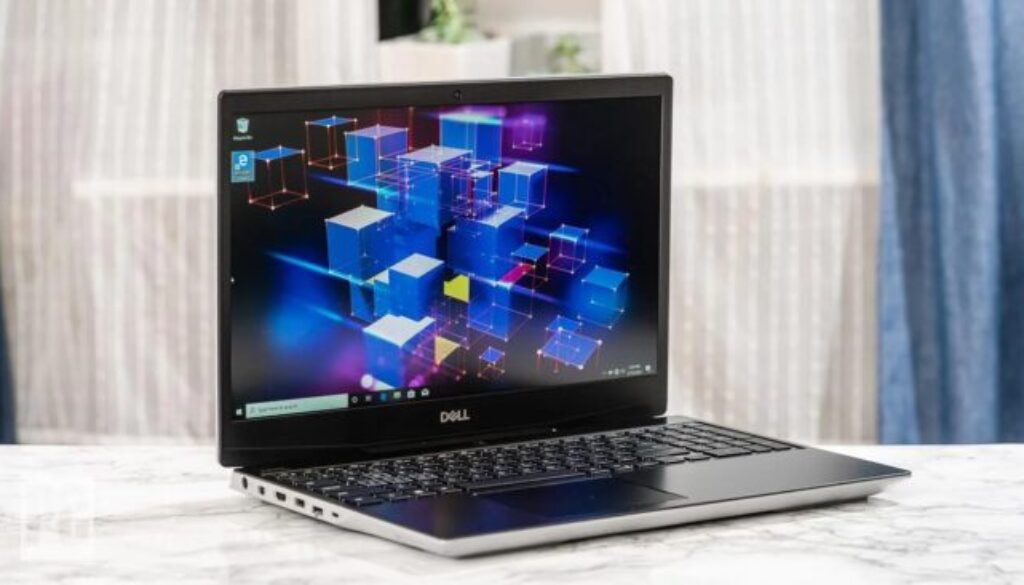 This G5 15 SE 5505 is a gaming laptop. It has GPU with 6 GB GDDR6 RAM to make your gameplay smooth and immersive. Its design has been very good, with the performance also given very well. Dell G5 15 SE is with AMD Ryzen 7 4800 H processor.
Highlights
15.6 inch Full HD LED Backlit Anti-glare IPS Display
Light Laptop without Optical Disk Drive
Pre-installed Genuine Windows 10 OS
Dell G5 15 SE Review: Overview
The Dell G5 15 SE is the latest and low-budget gaming laptop, with the Dell company stating that the Dell G5 15 SE laptop is not like any other AMD gaming notebook.
It is a Dell Inspiron laptop with an RX 5600M graphics card instead of the RTX 2060 with an AMD Ryzen 5 with 8GB RAM, and 120Hz display is priced at Rs.79,990,
Allowing you to enjoy multitasking while doing any work. Dell G5 15 SE It also supports AMD's SmartShift technology to power GPU and CPU benchmarks. This technology is the same, which will also be used in some upcoming Sony PlayStation 5 gaming consoles.
If we talk about the configuration, it is the only laptop in 2020. This laptop is relatively cheap according to its performance. Like in terms of performance. This gaming laptop, which starts at $ 1,000 (£ 800, AU $ 1,400), and the Dell G5 15 SE '5505' starting at Rs.74,990 in India from 24 October 2020.
If you want a good gaming laptop, you can buy this Dell G5 15 SE. And enjoy it. This laptop is powered by an AMD Ryzen 7 4800H processor with Radeon RX 5600M graphics card and 8GB RAM and 512GB SSD.
Its price is other in India, like starting from Rs 74,990, and up to 96,990. dell g5 India price. if its resolution is 1920 × 1080 pixels and includes a 15.6-inch full HD screen if you are opting for Dell G5 15 SE 2020 and display of 60Hz and 144Hz Selecting.
Dell G5 15 SE 5505 Full Specifications
General
Operating system
Windows 10
Brand
Dell
Series
G5 15 SE
Color
 Supernova Silver
Type
Gaming Laptop
Release date
23rd July 2020
Price in India
74,990 starting
Battery Cell
3 Cell
Battery Backup
Up to 10 hours
Sales Package
Laptop, Power Adaptor, User Guide, Warranty Documents
Memory Features
Memory Slots
2 Slots
SSD Capacity
512 GB
RAM Type
DDR4
Expandable Memory
 Upto 32 GB
Cache
12 MB
Processor
Processor
AMD Ryzen 7 Ryzen 7 4800H
Dedicated Graphic Memory Type
GDDR6
Processor Brand
AMD
Graphic Processor
 AMD Radeon RX 5600M
Dedicated Graphic Memory Capacity
6 GB
Port And Slot Features
Number of USB Ports
4
USB Ports
2 x USB 2.0, 1 x USB 3.1 Gen 1 (Type A), 1 x USB 3.1 Gen 1 (Type C)
HDMI Port
 1 x HDMI Port (v2.0)
Multi Card Slot
3-in-1 Card Reader (SD, SDHC, SDXC)
Hardware Interface
SATA
RJ45
Yes
Display And Audio
Size
15.6 inch
Resolution
1920×1080 pixels
Touchscreen
No
Refresh Rate
120 Hz
Speakers
Built-in Speakers
Internal Mic
Built-in Microphone
Sound Properties
Waves Maxx Audio
Screen Type
Full HD LED Backlit Anti-glare IPS Display
Additional And Warranty
Disk Drive
Not Available
Web Camera
HD Webcam
Finger Print Sensor
 No
Keyboard
English International Keyboard
Backlit Keyboard
Yes
Domestic Warranty
1 year
Pros
Excellent gaming performance
Very good looks
Comfortable keyboard
Decent value for money
Quick and vibrant display
Cons
Display brightness is on the lower side
Heavy laptop
Gets pretty hot under strain
The plastic build feels flimsy
Weak battery life
Display
If we talk about the display of Dell G5 15 SE 2020, it works on intermediate display. If its resolution is 1920 × 1080 pixels and includes a 15.6-inch full HD screen if you are opting for Dell G5 15 SE 2020.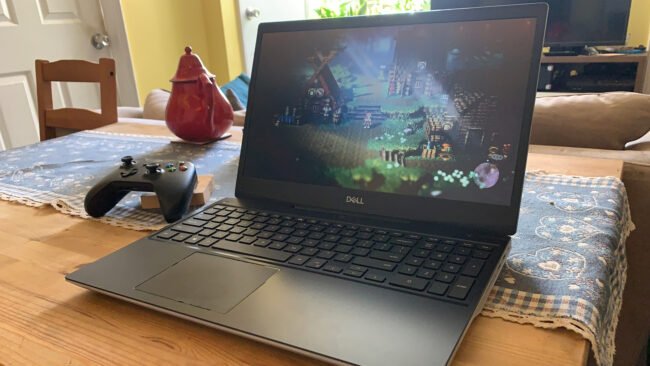 (Image Credit: TechRadar )
Then you can see the latest rate display of 60Hz and 144Hz Selecting, this laptop is largely accepted for basic computing functions and for gaming, color, sharpness, and overall visibility.
While I think it is definitely a mid-range gaming laptop screen, which is not very bright. As much as you might want in some games, both the HP Omen laptop and the Lenovo Laser laptop have a brighter immersive screen in the new generation avatar.
The panel on the Dell G5 SE gaming laptop is 7.6% of the DCI-P3 color gamut, which is brighter than the XPG Xenia or Pavilion. The more expensive Asus was better at 82.9%, and when we used the word measure, the Dell G5 15 SE Gaming laptop's screen averaged 301 nits and 298 nits at some points.
Read More- Acer Spin 5 Gaming Laptop full Review 
Also Read- Voltas 1.5 Ton Ac 5 Star SZS R32 Details 
Dell G5 15 SE Price and availability
The Dell G5 15 SE (5505) is available with either the Ryzen 74800H CPU or the AMD Ryzen 54600H. Such a new series debuted back in March, and the Dell G5 15 SE (5505) is based on AMD's 7nm process.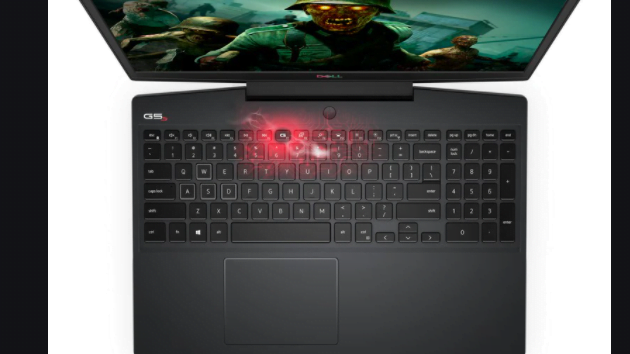 The Dell G5 15 SE Ryzen 7 laptop also has an AMD Radeon RX 5600M graphics card with 6GB of GDDR6 RAM. Press the Game Shift key (F7) to start the dynamic performance mode,
which optimizes the cooling of this laptop by increasing the fans' speed so that you can play for hours without facing any lags. And it also includes 512GB PCIe M.2 SSD. Whether you choose any type of variant.
It also gives Dell G5 15 SE(5505) up to 16GB of DDR4 RAM in the top and option. Starting in July, the variants had 60 Hz displays. But the current 120Hz refresh rate display option is also included when sent online in India.
The Dell G5 15 SE (5505) also includes a killer wireless 1650 × Wi-Fi 6 module with Bluetooth 5.1 for connectivity. The Dell G5 15 SE Ryzen 7  comes with a Noon removable 51WHr battery and is accompanied by a 240W power adapter, which is quite large and heavy.
The variant I am reviewing today (Dell G5 15 SE 5505) supports 8GB RAM, Ryzen 74800H CPU, and a 60Hz display pack. The Dell G5 15 SE goes on sale in India for Rs.74990, and the Dell G5 15 SE (5505) is priced at Rs 86,990.
Its rate is not listed on the website of individual configurations. But it is available on Flipkart, Ryzen 5 with 8GB RAM, and 120Hz display is priced at Rs 79,990, With the top and variants with Ryzen 7 CPU and 120Hz display priced at Rs 96,990. Which is available with 8GB RAM 16GB RAM and 90GB RAM.
Dell G5 15 SE (5505) is a version of windows10 Home with Alienware command center software and general Dell users, which helps you monitor GPU, CPU, and system temperature, this G or game shift modification button (F7 key), Which helps the hardware run faster when you need it.
Dell G5 15 SE: Design
When we talk about the design of the Dell G5 15 SE 5550 laptop, it looks great in supernova silver finish. The best part is that this G5 15 SE is designed for gaming. The lid of that laptop has iridescent speckled dots and a gray panel on the bottom.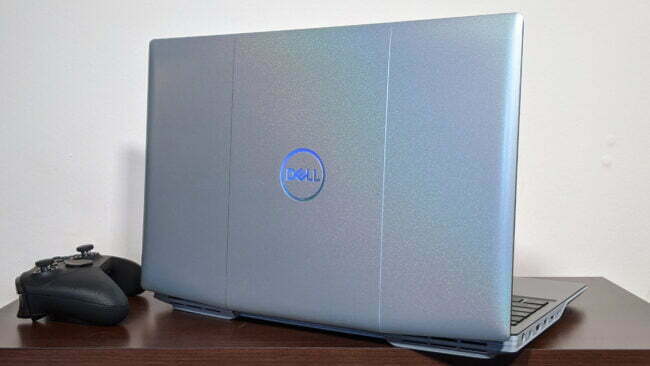 It's Dell G5 15 SE weighs about 5.51 pounds, 2.5 kg, and also has a thickness of 21.6 mm and heavier. The outer panel is made mostly of plastic. If we talk about its strength, it is very good. It did not look like a gaming laptop, but it is a gaming laptop.
It also has two cooling fans, which are located at the back to let the hot air out of it, which serves to keep our laptop cool. The Dell G5 15 SE gaming laptop offers a good selection of ports. Which includes a USB Type-C port, And a USB 3.2 gen 1 Type-A port, along with two USB 2.0 ports, full-size HDMI, Ethernet, and a mini-display.
You understand how good the USB port is. It also includes a headphone jack and a full-size SD card slot. You will be happy that this Dell G5 2020 has a card slot. Which is not much in the gaming laptop. This design would have been nice for Gummers.
You can vary the price in India. But the size is the same. Like, it comes with 15.6-inch and full-HD (1920×1080) LCD display. Its built-in 720 web camera is shown above the display just like other laptops. Please tell, its thickness is quite thin, the left end right, And the top and the bottom part are not the same.
Both its board and display are of the same color 'black', and its keyboard standard laptop comes complete with a number pad with chiclet-keys. There is not much sound on this keyboard. And this includes RGB Backlighting you.
It employs the right and left mouse buttons of the lower two corners of the trackpad, and its touch response is much better. The Dell G5 15 SE Ryzen 7 includes customizable software as well as the lower firing stereo speaker.
This laptop is good for gaming, but its battery backup does not give much time. To play the game. You can see the picture of the laptop on the website of dell, how is it. It is designed in the same way that you guys see the design in front of the car. I liked this design. This dell g5 15 SE 2020 laptop.
 Performance
If you look at the performance of this dell G5 15 SE laptop, it is very good. It is only slightly weaker for these gamers during our testing. But if you are a student or want to do some other work, on this laptop, then it is very good for you. The dell G5 15 has impressed us a lot with its performance.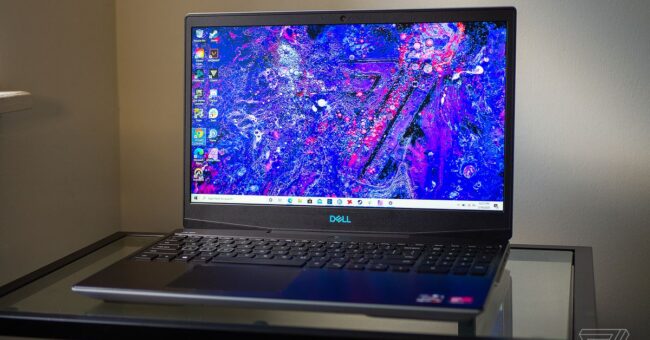 It seems to be lagging slightly behind the performance of some other systems in AMD Ryzen 7 4800H performance. I have been using Dell 5505 for a few days. When I started testing it, there were gaming crashes and overheats and even more stability.
However, it has become very good in a few days. If you buy a dell SE laptop, then make sure that you have updated all the drivers in Windows. You will have to update through dell update and the same helpful help. It is used by AMD Ryzen 7 4800H processor with Readen RX 5600M graphics card.
I had become very excited about such performance compared to Ryzen 7 and 10th Gen Intel chips. This result will be impressive, this laptop offers a speed of 45fps during total combat. You must have understood yourself, what a system is. The GPU delivers speeds of 42fps during our metro.
It has an Exodus Benchmark on Ultra Settings. Get a little information about AMD's SmartShift technology. This with a compatible AMD CPU and GPU, since most 3D games, load GPUs, while the CPU may not need to run fast at all times,
Dynamically adding more power to the GPU for a slight increase in frame rate. Can be rooted in. The reverse may also be possible. AMD claims a 14 percent increase in performance in specific workloads with SmartShift.
You can see this through AMD's Radeon Software Adrenaline 2020 Edition, which can give you a display overlay showing the current state of the CPU and GPU in real-time. Let me tell you that real-world gameplay, Shamb of the Tomb Reader,
Was one of those games that initially caused problems with running, but with the latest driver update, it started working just fine. With this graphics quality 'set to highest,' I have managed to manage an average of 67fps in the in-game benchmark. The End Row 5 also has a smooth average 62fps speed with the preset 'Ultra'.
The all-time popular game GTA V has also given a clear frame rate, averaging around 67fps. With most graphics settings set to their highest values. Deus EX: The Mankind Divide still has a tough nut to crack in the quality ultra 'quality setting, as it returns to 41.5fps on average.
Finally, During a more recent title like Control managed to average around 43fps with 37fps above-average dips. The experience was still good, given that it was on a 'high' quality pre-set. Look at the performance of the display and keyboard.
This will very happy using a daily laptop dell G5 15 SE (5505). But it's not the most portable, and moving it around will be a bit of a hassle due to the weight. If you want to use it in one place, this is great for you.
I like the performance of keyboard keys, in which you do not make noise. I noticed that the brightness of the display sometimes decreases slightly, more so if I have to face the window during the day, Then the brightness of the display decreases. These features will not be outside.
This Dell G5 15 SE is with AMD Ryzen 7 4800 H processor and 16 GB RAM. It is also easily tested through 40 Google Chrome tabs, five 1080p YouTube videos, also models with the AMD Ryzen 5 4600H processor and 8GB of RAM, AMD Ryzen 7 4800H processor, and 16GB of RAM. So much for this laptop to work online that's good.
Battery life
The battery life of the Dell G5 15 SE gaming laptop is not good, this laptop is not known for its battery life. So we did not like the performance of the Dell G5 15 gaming laptop battery.
In the PCMark 10 battery test of this laptop, it ran for an average of 7 hours and 3 minutes after full charge, and after full charge in the movie test, it lasted for 5 hours 45 minutes. It will take about 2 hours to fully charge the battery, it plays only about 2 hours when playing laptop games.
So we did not like this Dell G5 15 SE Gaming laptop, but it is still a good product for budget gaming laptops. Especially when some of the other gaming laptops that we tested are out of the outlet after 2 or 3 hours.
You must be feeling reasonably good, that its battery needs to reach the top via a cross country flight on a full charge or in 2 hours. The battery life of the Dell G5 gaming laptop is not very good. After the Dell G5 15 SE 2020 laptop is fully charged you can do it only to watch videos, web browsers and edit documents.
The rising temperature recipe is not good for the good battery life of any laptop. Whenever you decide to travel with this laptop, you will have to carry a huge brick of adapter with it every time.
Software
This is a Dell laptop you know. You are going to have some bloatware to counter Dropbox and Candy Crush on top, which Windows 10 usually throws at you.
After getting the Dell G5 15 SE 2020 out of the box, you'll probably spend some time with it, whether you want it or not. However, we do not have to say that this is all the junk or a bad thing.
Already installed Alienware Command Center software in it gives you the ability to customize the lighting of the keyboard. It always fixes the performance of the system for a specific game and also looks at all types of system statistics related to it, which can be really useful.
Touchpad and keyboard
The entire keyboard, along with the number pad on the Dell G5 15  laptop, is not the most comfortable. The issue is two-sided, the keys it contains are cheap, and it is plastic. Whenever the system is loaded, the keyboard heats up. It is not used for the overall experience. Its keyboard cannot say good for typing.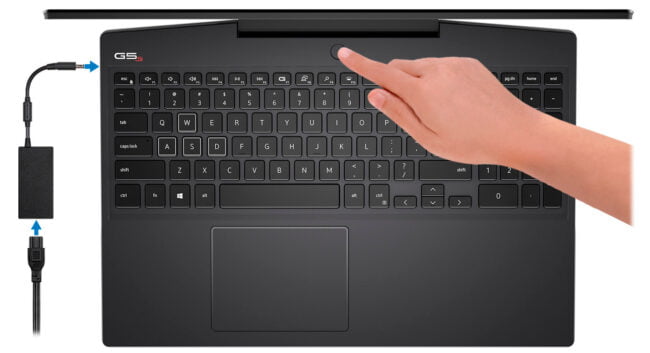 At 10fastfingers.com typing test, I can only press 112 words per minute, according to us this was a four-zone RGB keyboard, which can be adapted in Alienware Command Center. This keyboard is a $ 30 upgrade from the Red Backlit keyboard.
The Windows Precision touchpad, approximately 4.2 × 3.1 inches, is protected with a space bar and is additionally comfortable enough for browsing and multi-finger features.
Graphics and Gaming: SmartShift
This Dell G5 15 SE review unit is powered with an AMD Radon RX 5600M graphics card with a Readen 7 4800H CPU. When I play in 1080p at high setting preset controls, it gives speeds ranging from 49 fps to 61 fps in combat with the enemy.
For us, this is the first laptop to use AMD's SmartShift, Which powers the CPU and GPU through AMD's Infinity fabric. This basically allows AMD's APU to control the discrete Radon graphics card in the same way it manages with its on-board graphics.
When CPU-intensive work is going on, and do not use the GPU, more power can be put into the processor. Seen in many games, which are often more GPU-heavy, In this, the G5 earned a score of 45 fps on a shade of Tomb Reader (1920 x 1080, highest).
This Metro Exodus has been run on a loop 15 times to simulate for around 15 hours of gaming. We kept testing at a higher preset with 1920 x 1080 resolution. The game runs at an average of 49.5 fps. And its average CPU clock speed is 2.3 GHz, and the average CPU temperature is around 87.4 ° C.
The average GPU has a speed of 271.7 MHz and the average GPU has a temperature of about 79.8 ° C. If you are very fond of gaming, then you will not be very happy with this laptop, but there is nothing to worry about. You can buy Acer spin 5 laptops for you.
USB Port Features
In this Dell G5 15, we see that the power jack on the left side, a mini DisplayPort, and an HDMI 2.0 port, and it includes a USB 3.1 port, a DropJaw RJ45 Ethernet port along a USB Type-C port. It has a wedge lock slot on the right side,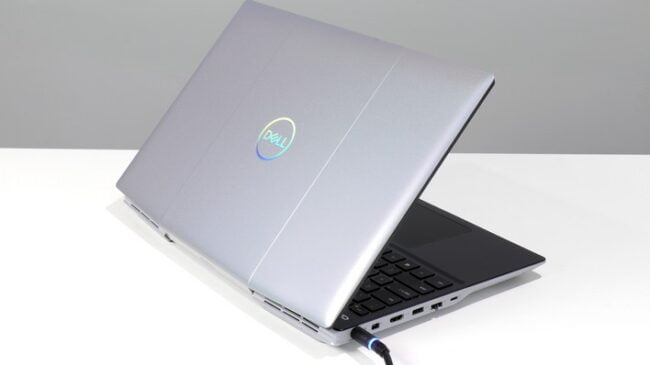 It has two USB 2.0 ports, one with a headphone jack and an SD card slot. It has got more ports of connectivity. If you want to take a laptop with more port, then Acer Spin 5 and docking stations are also close to the best laptop USB Type-C.
Audio (speaker)
The Dell G5 15 SE 2020 side-firing speaker does not make loud sounds, and this laptop does not offer much bass. In the Alienware Command Center app, you will find a tab for non-audio audio software, which is relatively helpful in getting better sound.
Many preset such as Alienware, COM, Movie, Music, Racing, Role Play, Shooter, and Strategy are also included. It can also create your own custom profile. Within each profile are settings for audio effects (bass, treble, voice, loudness,
Reverb, and surround sound), equalizer, and microphone. Still, its speaker is good. You can listen to the moment of your song while playing gaming. The laptop does not have a very sharp sound either. You can understand this if you are a computer expert.
It boasts built-in dual speakers with 3D Audio, Audio Recon visual sound-tracking, and intuitive voice and audio controls so that your aural experience is immersive and lifelike.
Webcam
This webcam is of 720pixels. It captures photos well, and like other laptops, it also has a camera above the display, also designed by Dell. Its camera is not like the iPhone, you will also know how good the photo of the laptop is.
And if you manage streaming in it, this is an option even better. Compared to other laptops, its camera is considered good. There are 3 Colors (RGB) options displayed on the laptop.
Conclusion
Dell G5 15 SE Ryzen 7 4800H/AMD Ryzen 5 4600H 8GB and 512GB SSD with Windows 10 Home, 6GB Graphics and AMD Radeon RX5600M G5 SE is a gaming laptop with a display of 15.6 inches and color silver, 2.5 kg. It includes a USB Type-C port.
If you are looking for an interesting laptop gaming, then this laptop is good for you, but its battery backup is giving little work. Now you can see accordingly. Its price in India starts at 74,990. It is currently selling at a discount on Flipkart and Amazon.com, you can buy.