How to Recover deleted Image and Video From Dumpster App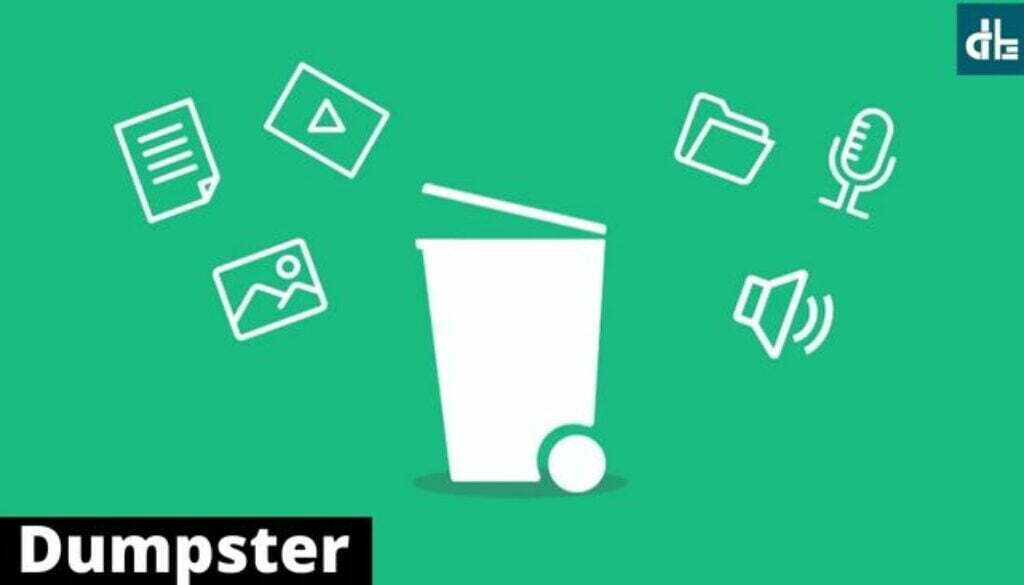 The dumpster app is the best for recovering deleted images, videos, and audio. A dumpster is a Google-approved app that is completely safe to use. It has almost 50 million users.
Dumpster App is used by more than 50 million Users, Dumpster is the recycle bin for Android, used to recover deleted photos and videos. If you use a smartphone, you often inadvertently delete important photos and images. Use the Dumpster apps to fix this problem now. It allows you to easily recover deleted photos and videos from your phone.
These dumpster apps are available in both paid and free versions, the free version comes with a free trial for 7 days and has less functionality. However, if you refer to the premium version, you can use it for one year. The Dumpster application acts as a recycling bin, so you can restore and download delete images and videos.
What is Dumpster App
Dumpster Apps is an Android Recycle Bin used to recover lost photos and videos. This app is a quick and easy solution to recover deleted files and images from your smartphone or SD card.
You no longer need to look for tools to restore videos and photos. You can download this app from the Google Play store. This application is published by Baloota.
When you download an app to your phone, it requests permission from you, just like it has to do some Required Permission Allow. The dumpster app keeps deleted images, videos, mp3, documents, and other data in a separate folder.
Dumpster App Free Vs Premium
Dumpster APP is available on Google Play in both free and premium versions. One key difference between the two is, with the free version supports a 7-day free trial and selectable features.
The premium version has a one-year subscription fee of Rs.8,500, but with this deal, you can get a one-year subscription for Rs.850 till June 29. This premium version will have a plethora of features. The difference between free and premium can be seen below.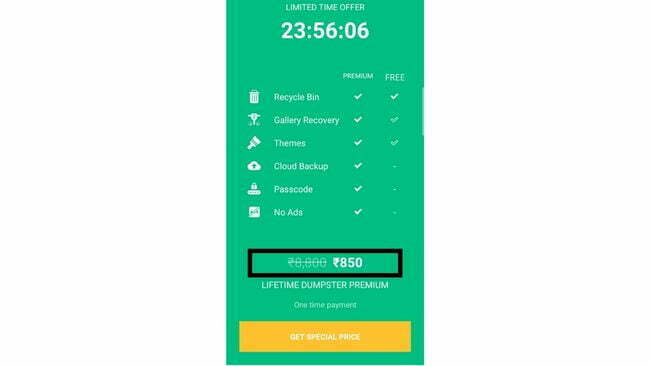 Premium Features:
Recycle Bin
Gallery Recovery
Themes
Cloud Backup
Passcode
No Ads
Free Features:
Recycle Bin
Nope full Gallery Recovery
Less Themes
Dumpster APP Download free For Android Version
If you wish to download a dumpster app for your phone, you may do so for free from the Google Play store. You can download the free version of the Dumpster app by following this link.
Information
Application Name
Dumpster
Publisher
Baloota
Operating system
Android
Latest Version
v3.13
MOD Features
Premium Unlocked
Category
Utilities
Size
15 MB
Package Name
com.baloota.dumpster
How to Use the Dumpster app to recover the Image
The dumpster APP is easy to use. You must first download the Dumpster app from the Google Play store and then install it. After that, on the home screen, you will see three options: Recycle Bin, Deep Scan, and Settings.
If you opt for Deep Scan, you will be able to view the photos, videos, audios, documents, folders, and programs that you have deleted. You can quickly recover or restore photos by tap on Photos. Apart from this, you will also be able to delete and share.
You can personalize the Dumpster app. You can change things including Recycle Bin settings, battery optimization, cloud storage, auto clean, lock screen, themes, notifications, and language, among other things, by tap on Settings.
Restore delete images and videos from Dumpster Apps
Step 1: First, download and install the dumpster app from the Google Play store.
Step 2: Open the dumpster app on your Android phone.
Step 3: You have to give permission to the media file.
Step 4: Now you will get to see Recycle Bin, Deep Scan, and Settings options on the home screen.
Step 5: To see images, audio, and videos, tap on the deep scan option.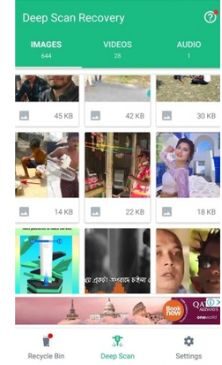 Step 6: Tap on the video or image you wish to restore, share or delete.
Step 7: Now, select the Restore option. Similarly, you may share an image and also remove it.
A dumpster is a Google-verified application that is completely safe and secure to use. The dumpster app is easy to restore deleted images, audio, and file on your android phone.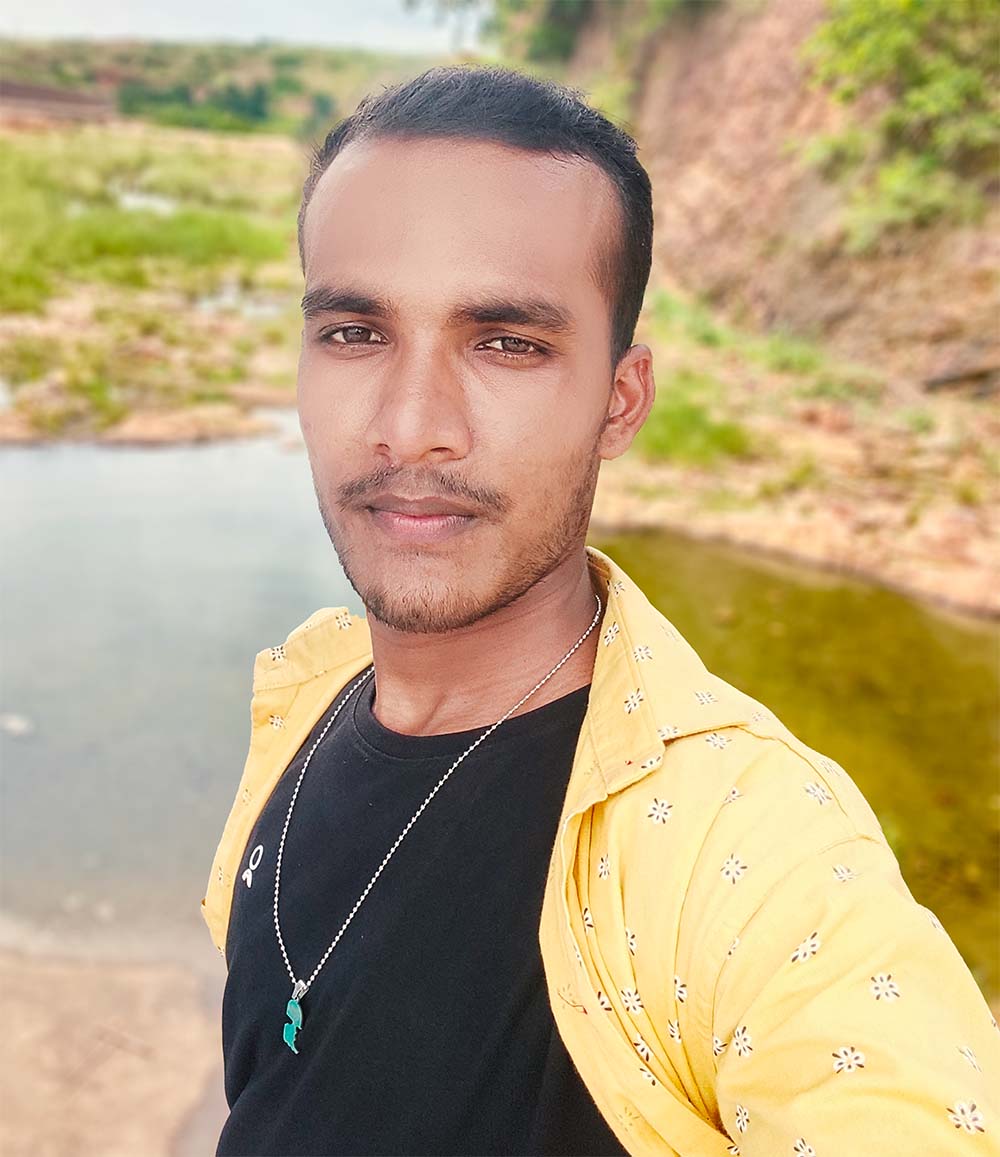 Chandan Kushwaha is chief editor at Digital Bachat. He has a mastery in computer applications, which is why he has been covering computer and laptop topics for three years.