When you are forced to dirty your hand before typing on the keyboard. Whether you are a gamer or a hard worker. When mud and stains become more like this, then you have to pay attention to clean that mud. You have to know how to clean a keyboard of a Laptop.
When the trash accumulates, your keyboard becomes sticky, and the keyboard may become clogged with keys. So deep cleaning will be necessary to clean it. You can buy some cleaning supplies. If you do not know how to clean the keyboard with all the moving and electric parts.
So in this case, you have to be careful so that you do not damage your device. You have to follow the rules mentioned here to avoid damage. You know that if anything is dirty, it is cleaned. Similarly, you have to clean the keyboard as well but to clean the laptop/desktop keyboard, you have to pay for some rules.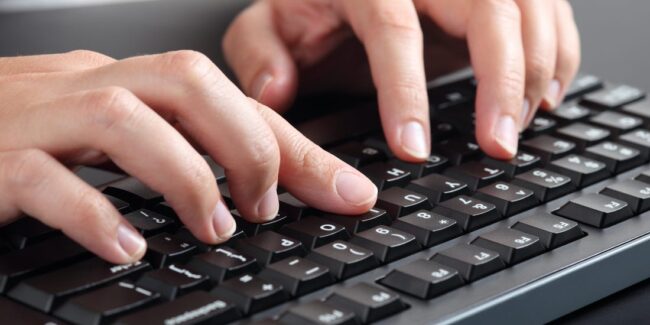 Which gives you different ways to clean the laptop keyboard. And read on to learn how to clean. How to clean a keyboard laptop,multi-method to complete. Many people do not know how to clean a keyboard properly. will read step by step. Use only a damp, soft cloth such as microfiber to wipe keys and keyboards.
How to Clean a keyboard: Remove debris
By the way, every day there are little disturbances, especially when you eat something while scanning at your desk, most of the time you are not careful. Due to this some particles of food fall, it gets trapped under the keys.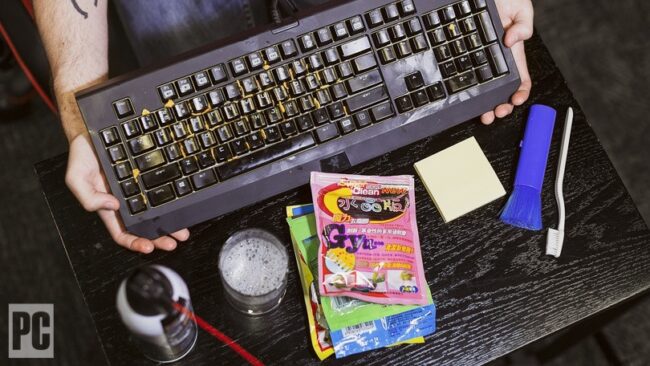 If this happens to you, then you can read the suggestion given below, and work accordingly.
To remove trapped debris, detach the keyboard from your computer, close it if you have a laptop, and then move the keyboard upside down until the debris comes out.
If too much debris is piled between the keys and is not moved enough, a can of compressed air should be used to remove it. You can also use a rocket blower, but canned air is much more Amazon and effective. It is easily available in stores.
Read Also- How to Clean Computer Screen
Read More- Dell G5 15 SE 5505 Review
How to Clean a Keyboard: Cleaning spills
Dealing with drink spills is even more difficult, but don't worry that you spread the liquid on your keyboard. This will not mean that you have to buy a new keyboard or laptop.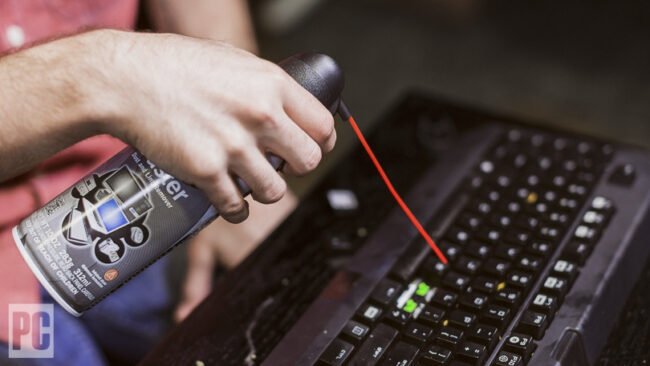 If you spill liquid to avoid damage, your own laptop or computer should shut down immediately, or unplug the keyboard. Turn the keyboard upside down while away from your other device, and keep it upside down to draw out most of the water.
Clean with a lint-free cloth
To clean up any remaining drop spots, use a lint-free microfiber cloth (a clean absorbent material, like paper towels or T-shirts, if nothing else is available). After that leave the keyboard to dry for at least 24 hours, do all this while keeping the keyboard in the reverse position for 24 hours.
Deal with those sticky keys
If you spill any liquids other than water if you feel it is sticky, examine each of the keys thoroughly, and carefully pop the keepsake with a screwdriver or knife to clean the sticky keys. You should also pay attention to your personal placement,
If you have a laptop, check with the manufacturer, whether their keeps are removable or not. Wash the sticky stain with a cloth and alcohol solution or warm water simultaneously on the kips and keyboard base. Use a soft-bristled toothbrush to reach the plot on the keycaps, and dry them thoroughly in the sun to put them back.
How to Clean a Computer Keyboard: weekly maintenance
You have to know how to clean your keyboard weekly maintenance. If you clean your keyboard weekly, it is very good for you. And you clean every week, so you can save some time in deep cleaning of the keyboard anytime.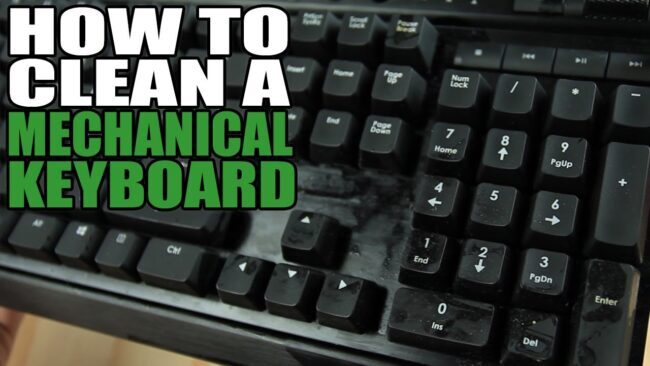 If you do this, then you will be free from harmful microbes and the covid-19 virus. Which will keep you free from virus disease. All you need to do is remember all the processes after unplugging your keyboard.
If any piece of dust falls on your keyboard, you tilt the keyboard upside down and shake it to remove loose debris or use compressed air near you, also spray it in between the keys.
If you can think of using a mini keyboard vacuum cleaner too. Which allows you to take a quick step more efficiently. Goo gels are also available here for sticky cleaning. This is a very good cleaner for you.
You use a cotton swab or cloth, remove dirt and oil, and sebum from the key, dip in isopropyl alcohol and use a brush in the area between each key. The amount of dirt on your keyboard requires the use of multiple swabs. You can use a toothpick specifically to remove spots. If you need to use lint-free cloths to remove dirt and dust etc.
from the keyboard and brighten the keys. You should dry lint-free clothes first. According to the things mentioned in it, your keyboard will be relatively free from germs and viruses. Your keyboard will also look very beautiful. If you have any problem with cleaning the keyboard, you can ask me in the comments or you can also comment on my YouTube channel.
How to Clean the Keys
More often we see that desktop keyboard letter keys are allowed to be removed with a blunt tool such as a flathead screwdriver or butter knife. You only use a tool in the bottom part of a corner of a key. If you are completely unsure about your model, don't take too much risk.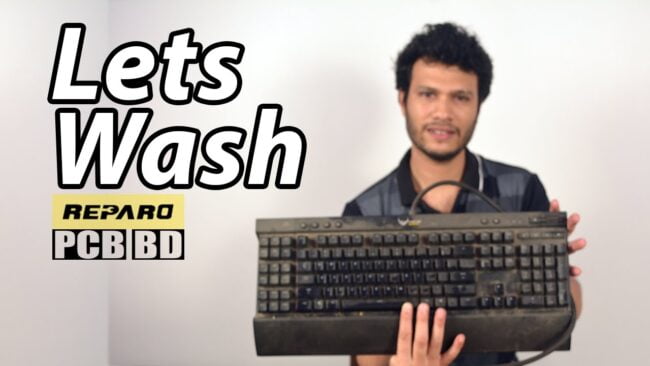 If you are using a computer. So get information from the manufacturer of your device whether the removal of the key of this computer is supported or not. In such a situation, you can avoid damaging your keyboard. If its key has been removed, then you can clean it this way.
Once you remove the letter keys, you can also wash them thoroughly with water and soap or alcohol to remove dirt between the keys on the keyboard. After washing it, dry it by placing the keys on a good clean towel. If the key is completely dry then you can also set it.
How to deep clean
Let me tell you, it will take more time to deep clean your keyboard Laptop, and more time when you do not clean your keyboard every month, it may take more time. You can thoroughly clean the keyboard by giving proper scrubbing as well as hardening the layers of dust and tiny particles, skin cells, hair, and more.
If you do a deep wipe, then you also have to keep in mind that after cleaning it, then apply it well again. You do not have to take much tension, you can clean the Gir rule above. And you also have to take care of 2 points.
You may find it a bit tricky to scrub smell and oil and c album buildup, So this part takes more time and patience. You have to watch each funnel carefully with a butter knife or flathead. You have to pay attention to your different pictures so that there is no mistake.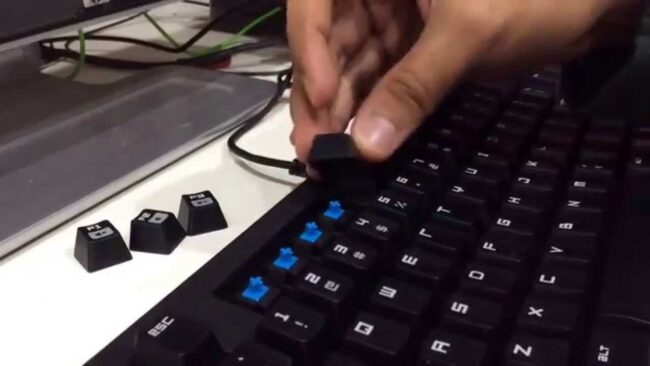 Then again you Wash thoroughly with water and soap or isopropyl alcohol. If there are a significant stain and blemish on the keyboard, you can also use a cotton swab with alcohol or a toothbrush with a soft bristle for scrubbing.
Deal with the keyboard base
You need compressed air to remove loose material on your keyboard base. In such a situation it turns out. Next, you can scrub the buildup on your keyboard base with a cotton swab or cotton swab and isopropyl alcohol or water.
And then before changing the keys, you wipe them thoroughly with a lint-free cloth. In this case, you deep clean. You must have understood well to clean you well. You may have learned how to clean a keyboard. Well without doing any harm.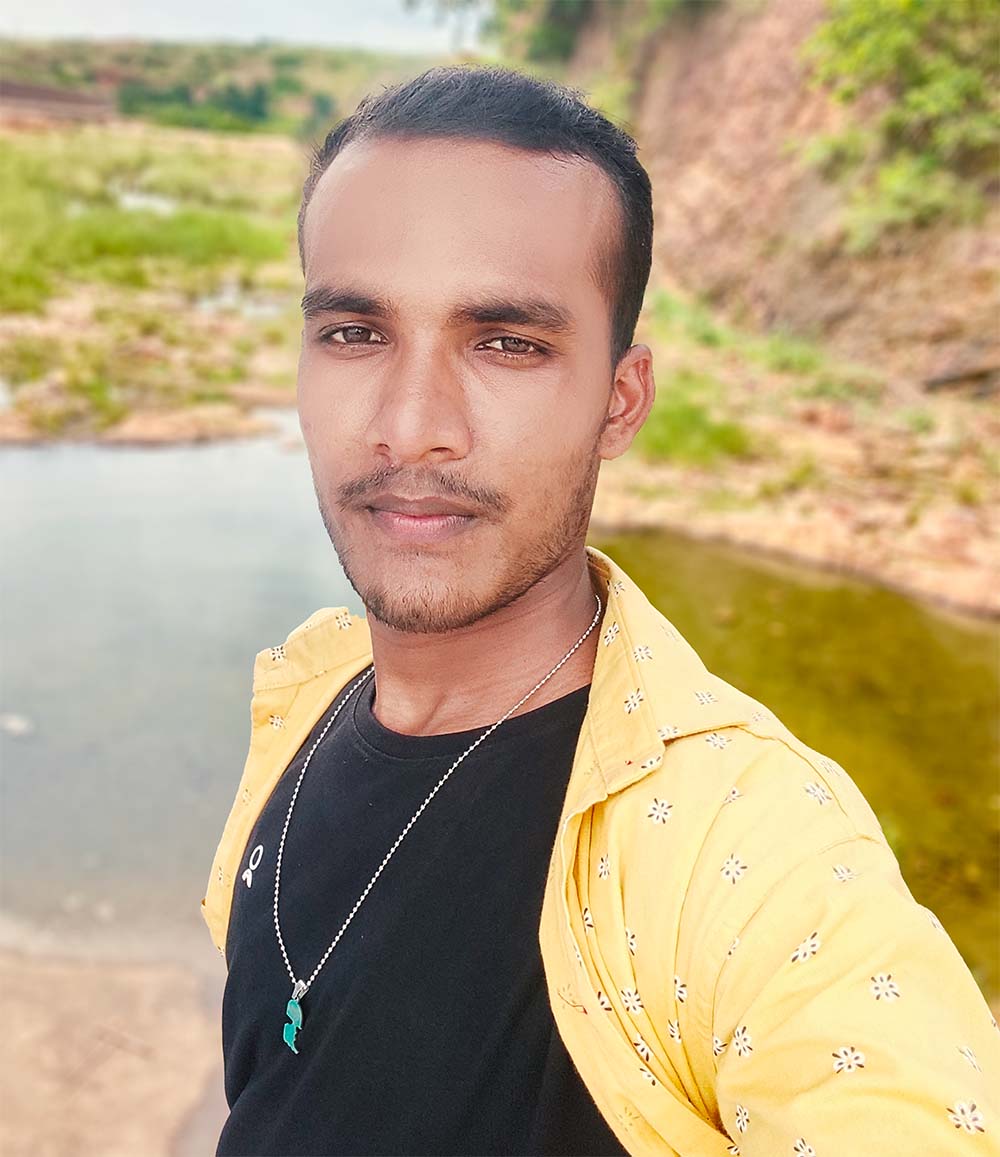 Chandan Kushwaha is chief editor at Digital Bachat. He has a mastery in computer applications and hardwares, which is why he has been covering computer and laptop topics for three years.