Step-by-step instructions for users can follow to create a new account on the IRCTC portal and book Indian Railway tickets online. Some of the following documents are required to create irctc account.
Highlights:
Gmail account is required
Phone number is also required
Aadhar card is not necessary
IRCTC customer care: (0755 661 0661)
---
What is IRCTC?
Create a New Account in IRCTC: If you are also thinking of traveling by Indian Railways, then now you can book tickets sitting at home through your mobile phone, desktop.
Indian Railway Catering and Tourism Corporation provides its users the facility to book and cancel Railway Tatkal ticket tickets through their Android or Laptop using the IRCTC website or Application (App).
Apart from this irctc is providing live train status, PNR status, seat availability, etc information to its user. Now you will not have to queue at the counter to book tickets.
Before booking a train ticket, You will create a new account in irctc. To create a new account in IRCTC, You need to have a new Gmail/phone number to create an IRCTC account. Which has never been used to create an IRCTC account. You can use Gmail/phone numbers only once in IRCTC.
If you want to book a train ticket but don't have an IRCTC account yet. Create your IRCTC ticket account in these easy steps and book your train tickets now.
Who is the owner of IRCTC? IRCTC is established on 27 September 1999 as a Public Sector Undertaking, it was fully owned by the Government of India through Indian Railways.
IRCTC Full Form: (Indian Railway Catering and Tourism Corporation)
How to create a new account in IRCTC- Step By Step-2022
Android Apps (IRCTC Rail Connect)
IRCTC Official Website Link (Irctc.co.in)
Method 1- Android Apps  (IRCTC Rail Connect)
Step 1: You should download IRCTC Rail Connect apps from Play Store on your device, and then install them. Then you have to open it.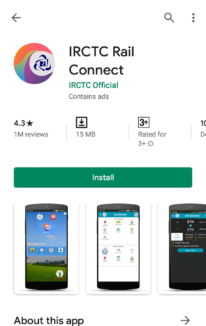 Step 2: After opening the IRCTC app, click on the login option in the top right corner of the page.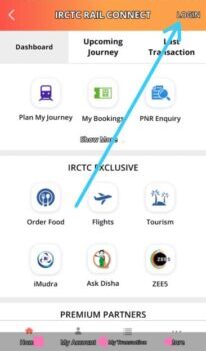 Step 3: You will see the option to register. You have to click on Register User.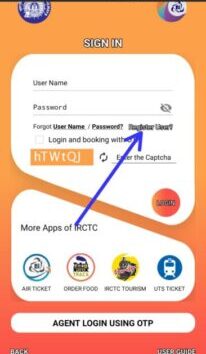 Step 4: After clicking on the Register User, Now you have to fill in all the details properly. Like- Mobile Number, Email ID, Username, Password, Confirm Password, First Name, First Name, Middle Name, Last Name,
Date of Birth, Nationality, Security Question, Security Answer, Business, Marital Status Options. Fill in the details and click on Next. You remember this username and password. Because you will use IRCTC to login.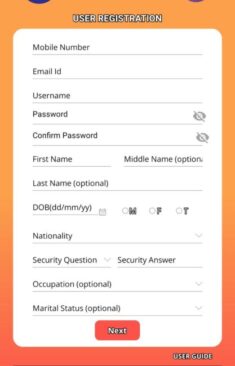 Step 5: Now, you have to fill the option of residential address. Such as – Street, area, select country, postcode, select city, state, select post office, phone number details should not be filled. After filling in all the details, click on the next option.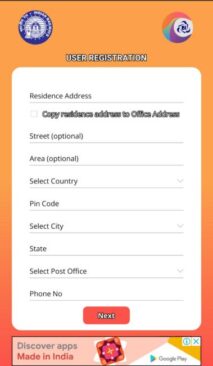 IRCTC Login :
Step 6: Verify your IRCTC account details by using your mobile number and email. For verification, first, enter the phone number and then click on SEND OTP. OTP will be received on the entered phone number, and then enter the OTP. Similarly, you have to verify Gmail as well.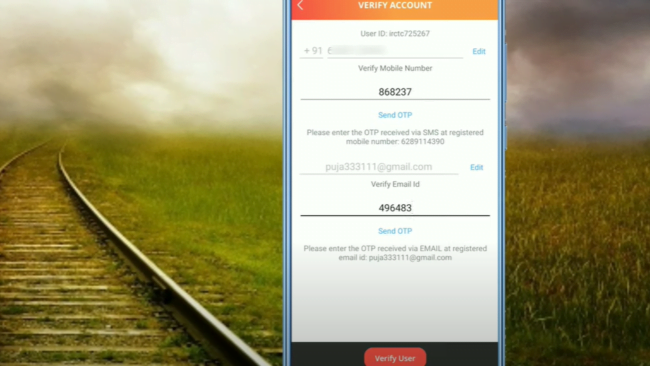 Step 7: Now to log in, you need to input the username and password correctly, and tap on Login.
Now, you have to generate 4 digit pin. In this way, you complete the registration on the IRCTC portal.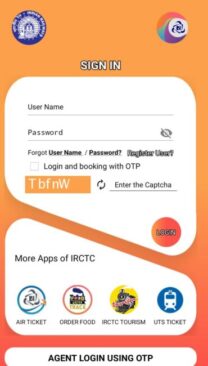 Method 2: IRCTC Official Website (irctc.co.in)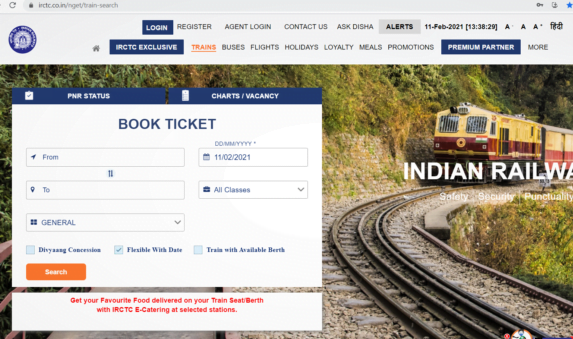 Step 1: You have to search the official website of IRCTC (https://www.irctc.co.in) on Google.
Step 2:Go to the homepage of IRCTC's official website, then click on login and then click on 'register'.
Step 3: Now, you will be redirected to the IRCTC registration form.
Step 4: In this, you have to enter some basic details. Like, Enter username, password, security answer. And then, enter personal details like name, Gmail, mobile number, Date of Birth, Country, Gender, etc.
Step 5: Now, you have to enter full address details. Like, Pin Code, Area, State, Post Office, Select Country, all the options have to be filled well. Also, a phone number has to be included. After including all the options, click Register.
Step 6: Verify the account by entering the OTP code sent to your registered phone number/email ID. And click on 'Submit'. You will then be asked to generate a PIN. You must enter a PIN, which also has to be filled in with a confirmed PIN option.
How to Book a train ticket Online in irctc 2022
If you also want to book train tickets, then you can see the process of booking train tickets online in IRCTC here. You can easily book tickets online in IRCTC.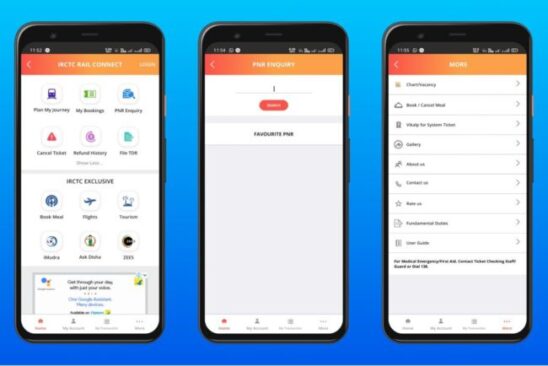 Step 1: Login to irctc official website (irctc.co.in) or download irctc android app. and log in again.
Step 2: Now, you have to click on 'Plan my journey' under Options.
Step 3: Write the name of which station you have to go from.
Step 4: Then you select class and quota.
Step 5: Then choose the travel date option and continue booking.
Step 6: You write the name in the passenger list and you can add 5 passengers to it. And enter the full address and user phone number below.
Step 7: You can also choose your berth. Side Lower or Side Upper are included.
Step 8: Now confirm the booking details and make payment through Credit / Debit Card / UPI / Paytm.
Step 9: When you process the payment, the OTP will appear on the number included in your account. That OTP needs to be recorded on the phone.
Step 10: After entering the OTP, a ticket message will be received on your phone. Now your ticket will be fully booked.
Conclusion
While making the payment, your net speed should be high, otherwise, there can be trouble in getting tickets booked. It is possible that your money will also be deducted, and tickets may not even be booked. The special thing is that IRCTC returns your money after some time will do it.
Nowadays Covid-19 continues in India. And there is a huge rush at the ticket counter for tickets. To avoid that rush, I have told you step by step in this article how to create a new account in IRCTC and also book tickets.
Now you can easily book tickets from your home, you will be able to book tickets with the help of this article and will also be safe from covid-19.
I hope you will now be able to create a new account in IRCTC. And you can also book train tickets. If you have any problems with booking tickets or fixing the IRCTC account, you should comment.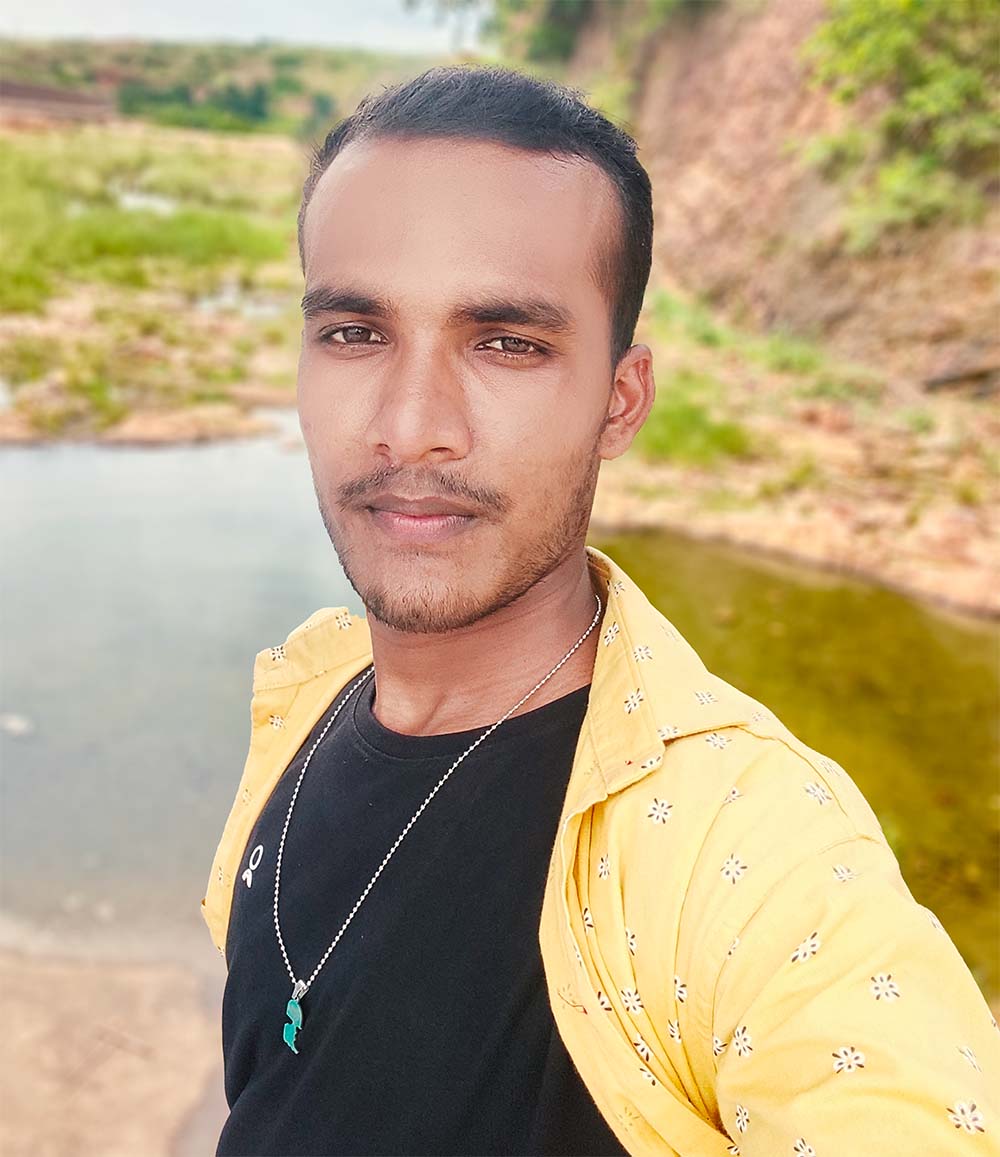 Chandan Kushwaha is chief editor at Digital Bachat. He has a mastery in computer applications and hardwares, which is why he has been covering computer and laptop topics for three years.