Best Gaming Earbuds in 2022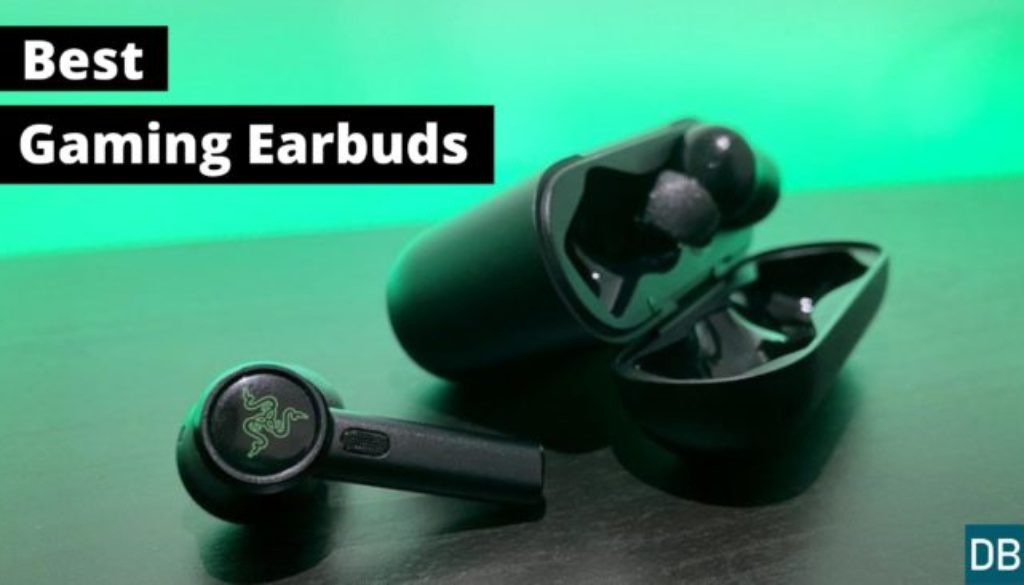 You need good gaming earbuds for online gaming. Without this you cannot have a good gaming experience, we have told you about some of the Best Gaming Earbuds 2023 in this post.
With you this year with the best gaming earbuds in 2022, you might be able to solve this problem. This device gives you the best audio experience while playing games or listening to background music.
Best Gaming Earbuds
Contents
Gaming earbuds are unique audio devices that can fit comfortably in your ear. These come with both wired and wireless systems. With the help of this tool, you can listen to the sound while playing games, as well as listen to music, even using the microphone as an audio unit.
1.

Wings X-Fire Gaming TWS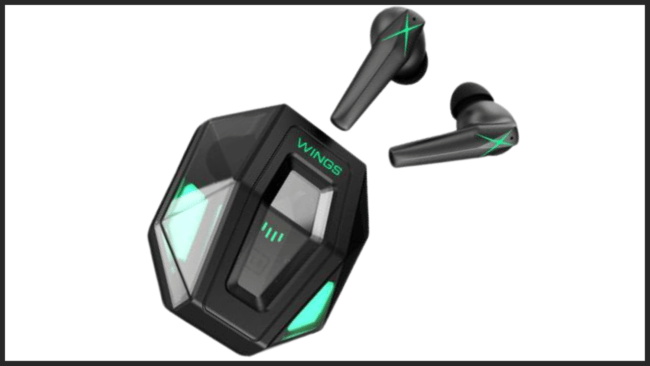 ---
Highlights:-
Bluetooth version 5.0
Wireless range 10 m
Battery life 25 hrs
Charging time 1 hr
---
This is a very good gaming earbud, Withings x-fire gaming earbuds are better, it has a good battery backup, its design is the best, I really like the design of the case, gaming mode is the best feature with loud bass.
It also has RGB lights in three colors, blue, red, and green. Overall this is a very good gaming earbud. It comes with 25 Hrs playtime. Wings X-Fire Gaming TWS is the Best Gaming Earbuds for ₹ 1,599.
Specification
Model Name
WL-XFIRE-BLK
Headphone Type
True Wireless
Bluetooth Version
5.0
Connectivity
Bluetooth
Headphone Design
Earbud
Headphone Driver Units
8 mm
Inline Remote
Yes
Battery Type
Lithium-ion
Standby Time
200 hrs
Battery Life
25 hrs
Weight
100 g
Color
Black
| | Rs. 1,599 | |
| --- | --- | --- |
Verdict:-  As per the review, these Wings X-Fire Gaming TWS Bluetooth earbuds are very good, it gives 25 hours of playtime, which is good for gaming earbuds. It is perfect for everyone, with these earbuds your gaming experience will be even better.

2.

Zime Winner Wireless Earbuds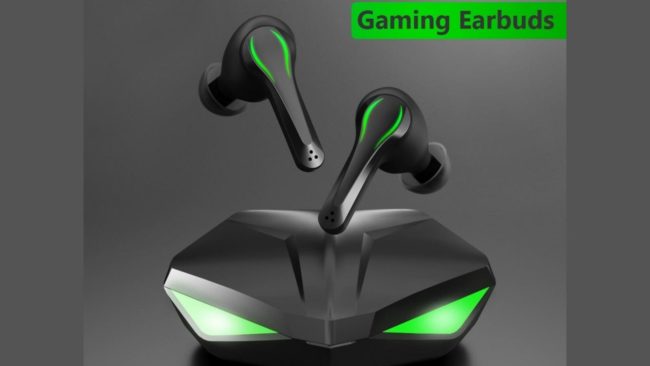 ---
Highlights:-
Ultra-low latency for mobile gaming
Immersive positional audio
Stylish and comfortable to wear
---
The SOUBUN Zime Winner gaming earbud is a budget-friendly model for you. The option of having wireless controls along with the RGB lighting option makes this device attractive.
It also gives an ideal gaming experience when used. Along with this, you will also get a 12 mm driver in it, which will be comfortable to wear. These are the best Gaming Earbuds in 2022.
Specification
Input
5V⎓1A
Headphone capacity
50 mAh
Charging box capacity
400 mAh
Charging interface
Type-C
Charging time
80min for earphones, 60min for charging case
Bluetooth
Bluetooth 5.0
Transmission distance
10 meters
Sound unit
12mm composite diaphragm moving coil unit
Frequency range
20Hz-17500Hz
Waterproof
IPX-5
Weight
Overall: 53g /Headphone: 5g
Unit sensitivity
110dB
| | $38 | |
| --- | --- | --- |
Verdict:- Going by the review, SOUBUN Zime Winner earbuds are a great earbud, which you can choose if you want to get good wireless earbuds. It comes with a touch control setup, which helps in easy pairing with a PC or mobile phone. The SOUBUN Zime Winner earbuds come with a 65ms low latency, which can be perfect for real-time audio transmission.
3.

Monster Mission V1 Earbuds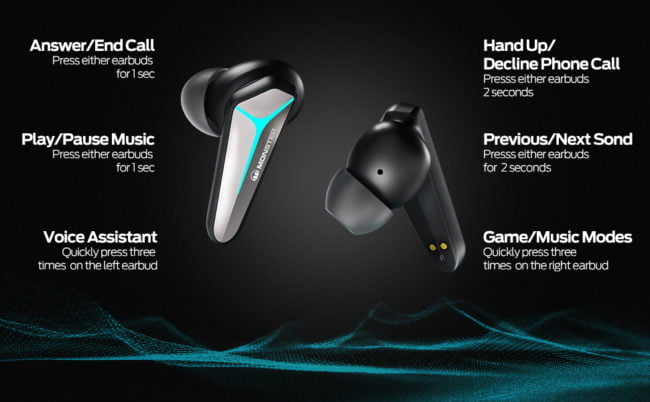 ---
Highlights:-
Built-in dual microphone
Type-C Quick Charge technology
Ultra low-latency connection
---
The Monster Mission V1 wireless earbuds come with noise-canceling technology. Its built-in dual microphone helps in having clear conversations. If you are playing a game on LAN, it also helps to have proper communication with your own teammates.
The Monster Mission V1 wireless earbuds offer an ultra-low-latency connection to ensure reliable transmission. These are the best Gaming Earbuds in 2022.
Specification
Manufacturer
Monster
Product Dimensions
4.21 x 6.46 x 1.85 inches
Item Weight
5.6 ounces
ASIN
B091TJ18CR
Batteries
1 Lithium-ion battery required
Fit Type
In-Ear
Item Dimensions
4.21 x 6.46 x 1.85 inches
Special Features
Sports-and-exercise
Noise-Canceling
Microphone
Wireless
Color
Gray
| | $79.99 | |
| --- | --- | --- |
Verdict:- As per the review, the Monster Mission V1 earbuds have cool lighting effects. It has been given RGB lighting to provide the perfect gaming experience. You can also switch to music mode using the controls, which can give you the best results. This gaming headphone offers you a 3x quick charging option, which helps in keeping the uptime of these earbuds.
4.

Realme Buds Air 2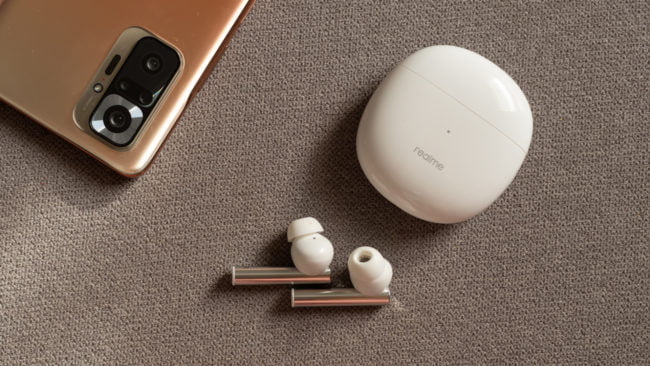 ---
Highlights:-
10 mm Large DLC Drivers
IPX5 Water Resistance
Dual Mic Noise Cancellation for Calls
Enabled with Smart Wear Detection
---
With the Realme Buds Air 2 earbuds, you can listen to songs or take work calls while multitasking on a presentation. You can reap the benefits of a stable connection with powerful performance. Equipped with the Realme Buds noise-canceling algorithm, the earbuds provide clear audio on calls for uninterrupted conversations with a microphone.
There is no need to charge these Realme Buds again and again, as they can give up to 25 hours of battery life with the case of the earbuds. Be it a short trip or your daily commute, these earbuds and their charging case won't let you down, with a total runtime of up to 25 hours. Plus, you can enjoy up to 2 hours of audio playback when the earbuds are charged for about 10 minutes.
You can say goodbye to constant charging with these earbuds and charging cases and play music all day long for non-stop entertainment. These earbuds have an IPX5 water-resistance feature, which protects them from damage caused by accidental water splash or light drizzle.
Specification
Model Name
RMA2003
Headphone Type
True Wireless
Inline Remote
No
Connectivity
Bluetooth
Headphone Design
Earbud
Battery Type
Li-Polymer
Battery Life
25 hrs
Battery Capacity
460 mAh
Play Time
25 hrs
Weight
42.7 g
Color
Closer White
Pros
The audio quality liked the bass
Battery backup is good
ANC feature works fine
The look, feel and case of the buds are premium
Cons
No wireless charging
No audio control gestures
| | Rs. 3,290 | |
| --- | --- | --- |
5.

Wings Phantom 500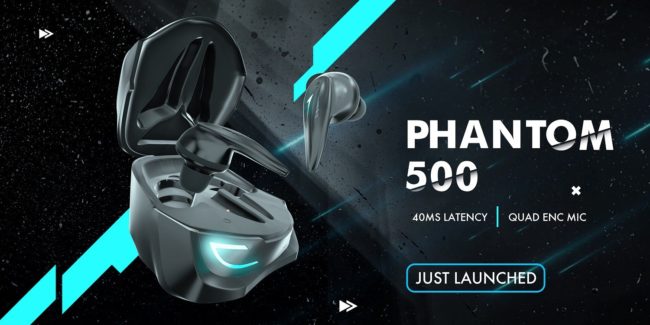 ---
Highlights:-
Bluetooth version 5.1
Wireless range 10 m
Battery life 30 hrs
Charging time: 2 hrs
---
The Wings Phantom 500 headphones are designed with a dedicated gaming mode to ensure a fully immersive gaming experience. This earbud has an advanced ambient noise cancellation chip, which eliminates outside noise.
Therefore, during games or calls, it can be easily heard even in a noisy outdoor environment. Enjoy audio and gaming conversations from this gaming headset. This is perfect for long broadcasts. It is with a Type-C port. It is designed to ensure IPX5 resistance.
Specification
Model Name
WL-PHANTOM500-BLK
Headphone Type
True Wireless
Inline Remote
Yes
Connectivity
Bluetooth
Headphone Design
Earbud
Bluetooth Version
5.1
Play Time
30 hrs
Battery Type
Lithium-Ion
Bluetooth Range
10 m
Battery Life
10 hrs
Color
Black
Pros
Very good at this price
Its battery life is good
| | Rs. 2,502 | |
| --- | --- | --- |